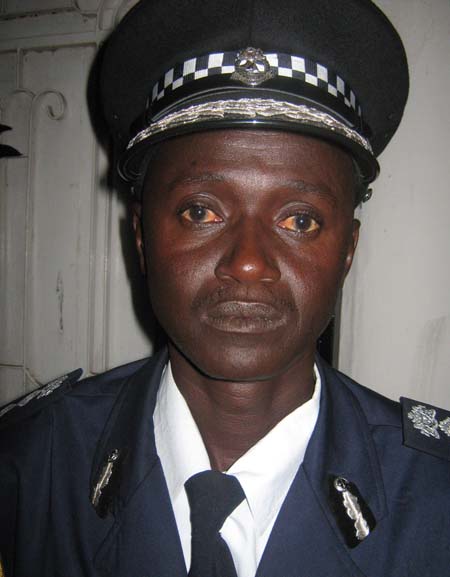 The embattled former police chief, Ensa Badjie, yesterday continued his testimony in his trial for alleged robbery alongside chief superintendent of prison Ali Ceesay, at the Special Criminal Court in Banjul before Justice Joseph Ikpala.
Ensa Badjie and Ali Ceesay were arraigned after being indicted on different counts, including conspiracy to commit a felony, robbery with violence, receiving stolen property, aiding and abetting, robbery, conspiracy to commit misdemeanour, aiding prisoner to escape, official corruption, conspiracy to defeat justice and interference with witnesses, deceiving witnesses, offences relating to judicial proceeding, and using criminal charms, among others.
Continuing his testimony, Ensa Badjie told the court that after his return from Sudan on 23 March 2006, "I was given two weeks holiday and later posted to Kanifing Police Station as officer commanding Criminal Investigation Department, with the rank of Chief Inspector," he added.
He said that, after a couple of months, he was promoted to the rank of ASP, in 2006, and went to Serekunda Police Station.
He also told the court that he visited the police headquarters in Banjul at the time, where he heard Landing Bojang, who was then an Inspector, declare that Ensa Badjie's promotion was based on tribal lines.
The former IGP said he confronted Landing Bojang, who admitted saying so, and that he told Bojang that he (Landing Bojang) was in grade five when he joined the police force.
"I told Landing Bojang that this was how you destroyed the two officers at Farafenni. I reported the matter to the then IGP, Ousman Sonko, who promised to look into the matter, and asked me to stay away from him," he further told the court.
Still testifying, Ensa Badjie also told the court, "I fed Landing Bojang for three good months by letting him take food from my wife, under my directives, and I eventually stopped him from taking food from my wife," Badjie added.
"I distanced myself from him, but anytime we meet he could use abusive words against me," he further told the court.
The former police chief pointed out that there was a day when he was informed by Commissioner Ousman Gibba that there is a criminal hideout at London Corner, and a taskforce was formed and the place was raided, adding that one Ebrima Suma was apprehended.
He added that Ebrima Suma was brought and interrogated, which led to the arrest of other suspects by the task-force.
Ensa Badjie further told the court that before Landing arrived at the office he (Landing) called him reminding him about the pledge to whosoever arrested Soriba Condeh; that he would receive D5,000.
Asked by his counsel whether he honoured the pledge, Ensa Badjie said he did not honour the promise, because he had a serious problem with Landing Bojang.
Ebrima Suma, Badjie said, had informed him that Landing Bojang was in love with Fatou Jatou Mendy, the wife of Omar Touray, and that when Fatou Jatou Mendy came to the station with the wife of Amadou Jallow to seek bail for their husband, he drove them out.
Ensa Badjie went on to inform the court that after a short time, Landing Bojang came and appealed to him for bail, and that he told him that would only happen over his dead body, "because these people are criminals and, besides, they are foreigners", adding  that Landing came again, but he still refused.
He said that when he received Soriba Condeh at the CID office and started interrogating him, Soriba confessed and starting giving some names, but said he did not know where they live.
The case was at that juncture was adjourned till 17 February 2011.                              
Read Other Articles In Article (Archive)