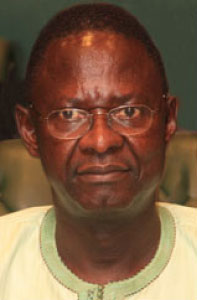 A four-day regional meeting on trade liberalization under the Economic Partnership Agreement (EPA) and EPA Development Programme opened Monday at the Kairaba Beach Hotel.
Organised by the Ministry of Trade, Regional Integration and Employment in collaboration with the ECOWAS Commission in Banjul, the meeting, which attracted participants from the various ECOWAS member countries, is geared towards seeking solutions to the concern on some products through trade defence measures and support activities within the EPA development programme.
In his official opening statement, Kebba Touray, Minister of Trade, Regional Integration and Employment underscored the tireless efforts that the ECOWAS Commission has put into coordinating and leading the technical work in the EPA negotiations over the years, a move, he said, which continues to be a centrepiece to the collective effort of our community.
'I need not remind ourselves that we have been negotiating this Economic Partnership Agreement for a decade now, and my dear ECOWAS brothers and sisters, I need not over-emphasize that 10 years is a long time in the history of our community,' Touray stated.
During this period, he added, we have dedicated a significant quantum of time, as well as human and capital resources to this process, but we recognize that these negotiations are key, in our integration process and in redefining our economic relation with one of our key trade partners, the EU.
'However, we have now reached a crossroad and we have to choose which path to take,' Trade Minister Touray said, adding that it is imperative that we must move forward as a community, and not as individual states for the latter will undermine our development process as a region.
According to him, our choices have been narrowed by time and since we might not be able to return to the past nor can we remain stagnant, our only option is to move forward guided by a well thought-out strategy within the framework of give and take, mutual respect and mutual interest.
Touray went on to express hope that the meeting, which could not have come at a better time, will address these issues.
He noted that member states requested for more time and the Commission gave time, but time is never enough.
'I believe the time given was reasonable even for bigger economies of the region to carry out conclusive analysis,' he stated.
While urging the participants not to allow themselves to be hostages to this never ending meeting, analysis, consultations, modeling and simulations, Touray expressed his belief that at some point, they should admit they have the key elements to make good decisions that they can live with and move on.
He also expressed optimism that the meeting will reach conclusions on the way forward as regards the level of market opening our region can afford to offer to the other party, without compromising our development and regional integration ideals.
'We need to move forward, but more importantly we should endeavour to move together,' he said, while encouraging the participants to be as accommodative as possible to each other's needs, concerns and aspirations.
'We started this long journey together as a region and our finest achievement would surely be to end it together in order to consolidate our integration process,' he emphasized.
The Gambia, Touray went on, would like to insist that the development component of the EPA cannot and should not be sacrificed for expediency on the altar of increased market access demanded by our partners.
 'The Gambia would, therefore, urge the chief ECOWAS negotiators to continue the dialogue with the EU to secure firm commitment for new and adequate funds for the EPA Development Programme, as well as set out simple disbursement mechanisms for ease of access to such funds,' he concluded.
Read Other Articles In Article (Archive)