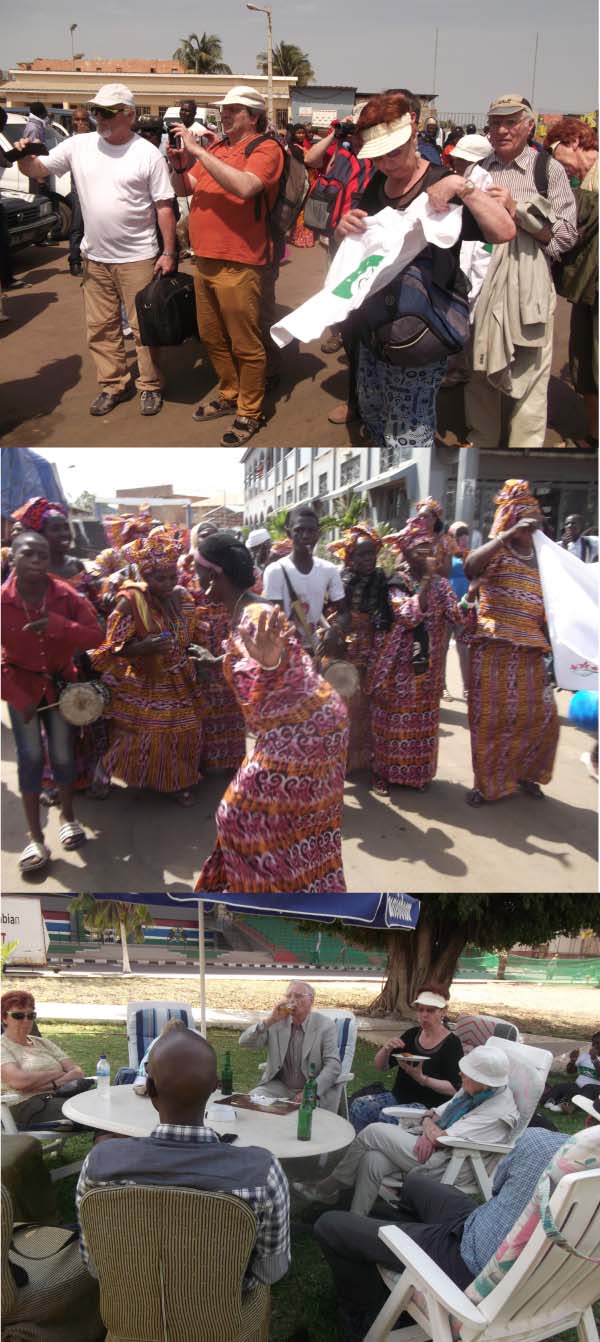 A 12-member delegation from 'Friends of Nature International' Germany Thursday 5th February 2015 arrived in The Gambia to visit their counterpart 'Friend of Nature Gambia'.
The delegation is led by Ms. Ingeborg PINT, a veteran conservationist, who has served a good number of years in nature protection.
The delegation was received at the Banjul Ferry Terminal at around 13:00 hours by their hosts, and there was traditional drumming as part of their welcome to the city of Banjul and the Smiling Coast of Africa.
Speaking to The Point newspaper, Modou Lamin Kinteh, chairman of Friends of Nature Gambia, spoke at length on the importance of the visit, adding that the weeklong visit provides a unique opportunity for members of Friends of Nature International and Friends of Nature Gambia to interact, learn, share, and network to promote the protection of nature in The Gambia.
According to him, during the weeklong visit, the foreign delegates and their Gambian counterparts will engage on a series of programmes and activities designed to provide platforms to interact and learn from each other, including cultural and traditional performances.
He thanked the German members of 'Friends of Nature International' for making their way to The Gambia, and assured them of his commitment to promote nature for sustainable development.
Herbert Bruchner, honorary president of International Nature Friends, who served in the presidency for twelve years, said the purpose of the visit is to meet people, particularly Friends of Nature in The Gambia, to familiarize with the work they do in the country.
Mr. Bruchner revealed that the overall objective is to create networks between nature friends from Africa and Europe, and within and among African countries.
He noted that Friends of Nature International is in ten African countries, including Senegal, Togo, Bukina Faso and The Gambia.
These African member organizations has created a network in Africa to bridge gaps and build mutual understanding among member countries, thus learn and share experiences to better promote the welfare of the continent's nature for economic empowerment, he said.
According to Bruchner, he was overwhelmed by the warm welcome accorded the delegation members.
"We want to encourage local nature friend groups that respect environmental protection, respect the protection of nature," he emphasized.
He said some of the key intervention areas include sensitization of local societies/groups to protect nature, develop agriculture, and promote sanitation and hygiene for a healthy and improved standard of living.
Mamadou Mbodi, chairman of African Friends of Nature Network, who doubles as the vice president of Nature Friends International, said their philosophy is solidarity and friendship, "and this could not exist without knowing each other, and to know each other one must visit each other."
This was why the launching of the African network is focusing on sustainable tourism - tourism that has respect for the environment, and the culture of those visiting and visited, he added.
"That is why we have agreed to have trans-border and ecotourism sharing experiences, and to learn best practices from each other"
Since 1997, Senegal has been committed, and that since the arrival of Friends of Nature Gambia, "we decided to have the visit in The Gambia, learn and share experiences, our economic realities, social realities and cultural realities and see what can be done together to promote the values of the member countries," he said.
The network was launched 2006 in Togo with three countries, but they have more than ten member countries in which to create platforms to actualize good actions and find African solutions to African problems, in the area of nature conservation, he said.
"We have contact with the local population to see what kind of help can be brought to them, and map out possible solutions to address some of their (Friends of Nature) bottlenecks," he added.
Read Other Articles In Article (Archive)