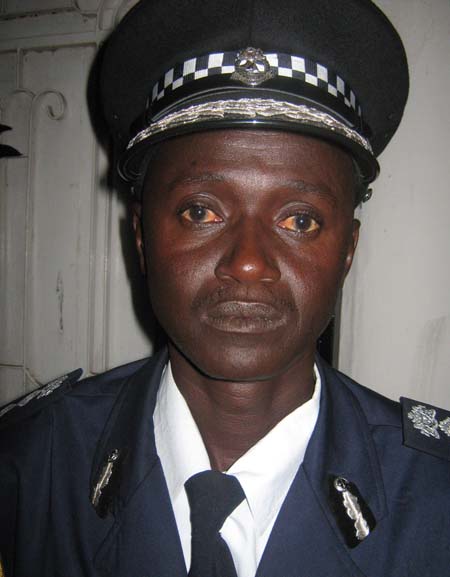 Soriba Condeh the 1st prosecution witness in the ongoing robbery trial involving the ex Inspector General of Police Ensa Badjie and Chief Superintendent of Prison Ali Ceesay, has told the court that Ensa Badjie gave him cannabis, alcohol and money, while he was in detention.
He said the money was to buy a scratch card for his cellphone, to inform his colleagues to get out of town.
Condeh was speaking during cross-examination by Borry S. Touray, counsel for Ensa Badjie, during yesterday's proceedings at the Special Criminal Court in Banjul before Justice Ikpala.
The defence counsel put it to the witness that Landing Bojang was having an affair with Fatou Mendy, to which the witness replied that this was not to his knowledge.
He adduced that the husband of Fatou Mendy was Omar Touray, who was convicted along with Yuspha Baldeh and Bunckinling. 
When asked whether he knew Fatou Mendy's former husband, before she got married to Omar Touray, Condeh said, "I got to know Fatou Mendy when she got married to Omar Touray, and they have two children".
"Are you aware that the said Omar Touray was deported out of the Gambia?" counsel asked, and in response PW1 said he was not deported, and he legally lives here in The Gambia.
Condeh told the court that, while in jail, he heard that Omar Touray had travelled. Then it was put to him that the two former husbands of Fatou Mendy were all deported by the 1st accused.
Defence counsel BS Touray further put it to PW1 that, that was the reason why Fatou Mendy was coming to court to lie against the 1st accused.
The deputy Director of Public Prosecutions, M Abdullai, objected to this statement on the grounds that the witness is not Fatou Mendy giving evidence in this case.
He submitted that the question would be best reserved for Fatou Mendy, one of the witnesses for the prosecution.
In response, BS Touray argued that the objection lacks merit, adding that this witness introduced Fatou Mendy to the court when he stated that he gave the said Fatou Mendy D300, 000 for safekeeping, and that he retrieved the money and handed it to the 1st accused.
BS Touray further submitted that the witness, Landing Bojang, Fatou Mendy, Dodou Janneh alias Dodou Boy and Amadou Jallow had all conspired to come to court, and give false testimony against the 1st accused. He submitted that the question is highlighting conspiracy and falsehood.
M. Abdullai then argued that anything this witness says about Fatou Mendy would be an opinion, but not facts.
The court upheld the prosecution's objection.
Condeh continuing his testimony told the court that he lived in the Gambia since 1996, when asked by the defence counsel for how many years he has lived in the Gambia. He also said he had travelled on several occasions.
PW1 adduced that he had never reported the 1st accused to his superiors, while doing all these crimes, when further quizzed by defence lawyer Touray.
According to him, Landing Bojang knows about his relationship with the 1st accused, adding that the 1st accused person was his friend, and the only one he knows.
"I will not implicate my friend, because he is the one who gave me a mobile phone to call anywhere, and we always meet in a bar, and I know he is a police officer," said Condeh, further responding to questions by the defence counsel.
When it was put to him that he was lying, when he said that the 1st accused gave him money to buy cutters in the supermarket operation, and that police records show that they entered through the roof, Condeh's responses was that he could not pass through a concrete wall.
He added that at the time when he was arrested, Benedict Jammeh was not the Inspector General of Police, and that he came to know one Omar Gibba the ex chief of protocol, when "I was convicted."
He said this when defence counsel put it to him that Benedict Jammeh and Omar Gibba found him (Condeh) at the office of the officer commanding Drug Squad at Serrekunda police station.
Soriba said that when he was arrested, but could not mention the name of the 1st accused, since the 1st accused was the one who bailed him at the Bakoteh police station.
"I called the 1st accused, and informed him of my arrest at Bokoteh police, and the 1st accused informed Tony who came along with Fatou Mendy. And the 1st accused gave instructions for me to be released on bail," Condeh further testified.
When I was released from detention, I went to City Pub and I found the 1st accused lying down with Fatou Mendy, and I told him about my release. Condeh went on to say that Fatou Mendy even ran way with the monies belonging to the 1st accused.
When it was put to him by defence counsel BS Touray that the 1st accused ordered his prosecution, when he was the officer commanding the Criminal Investigation Department (CID) at the Kairaba police station, PW 1 responded: "I am a bandit, and I don't go to police stations. We had our meeting place".
He said he has never appeared before any other magistrate, apart from then magistrate Pa Harry Jammeh. He said he gave the 1st accused D2000.
Asked where he bought the cutter used in the supermarket operation, Condeh said at Sunu Kerr.
He said he bought the cutter in 2007, and a receipt was issued to him. He said he bought the said cutter for D2500, which was a big one, noting that the colour was red and is still at Serrekunda police station, and that the money was given to him by the 1st accused to purchase.
Asked how many break-ins he carried out in his life, he said all the operations he did were under instructions from the 1st accused person, Ensa Badjie.
When asked by counsel, if it was correct that when Salieu Baldeh was arrested, he led the police to arrest all of them, Condeh said when Salieu Baldeh was released, thereafter all of them were arrested.
He maintained that he gave D300, 000 to Ensa Badjie after the operation. He also maintained that the 1st accused person gave him his car to use in their operations. He further said that all information about the police was given to him by the 1st accused.
The former police boss, Ensa Badjie and Superintendent of Prison Ali Ceesay, were arraigned at the special criminal court, after being indicted on different counts, including conspiracy to commit a felony, robbery with violence, receiving stolen property, aiding and abetting, robbery, conspiracy to commit misdemeanour, aiding prisoner to escape, official corruption, conspiracy to defeat justice and interference with witnesses, deceiving witnesses, offences relating to judicial proceeding, and using criminal charms, among others. Hearing continues today.
Read Other Articles In Article (Archive)