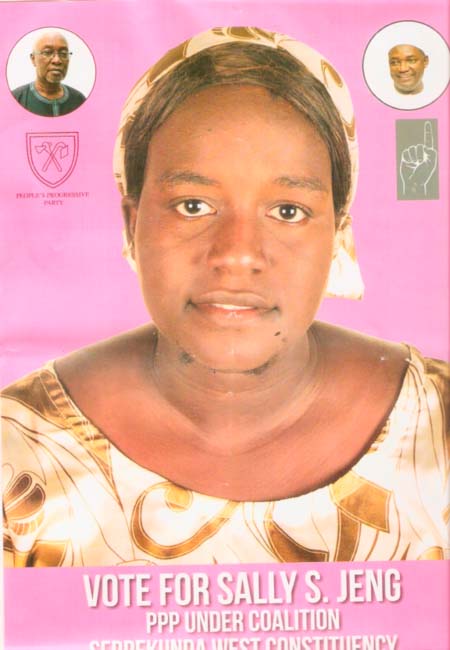 Sally Jeng, PPP Candidate contesting for the Serekunda East Constituency, wants politics of deception ended, while promising to address peoples' suffering, improve living conditions, health, environment, and socio-economic conditions of her constituents if voted for as parliamentarian, come the 6 April 2017 National Assembly election.

She called on the electorate not to allow anyone to fool them, advising them to vote for people that will serve their interest.
Speaking during a political rally organized by PPP KM Committee at Latrikinda German last Thursday, Mrs Jeng stated: "We the women has been suffering, in the markets and at homes. Prices of basic commodities are high, making living difficult. Our voices are our votes and it is time for women to help women," she said, while calling on her people to vote for her to enable her become more effective in relieving them of such suffering.
"I felt the suffering of women that was why I established Gambian Youth in Action, to help address our suffering, by creating employment opportunities for them. Now we have over 500 members registered with our organization. This was meant to address the issues of youths going through the back way in search for greener pastures."
She also said the culture of silence affects progress and the development of Gambian women for long. She said it is time for women to come forward, instead of only being behind men, adding: "Behind every successful man is a strong woman. If we help women, we are helping men," she said.
She also noted that the Bakoteh dumpsite is posing serious health hazards to the communities, which needs to be addressed.
"We have limited health facilities in the constituency; that I will stand to address if elected as representative of Serekunda West in parliament.
"There are bad roads and I want to engage Gamworks to perform their job. I have been helping the community on a personal basis, and will be more effective if elected as the peoples' representatives."
She further noted that access to water is a challenge for the communities, as public taps were closed for long.
"Water is supplied by Nawec mainly at night, while the communities need water during the day time. I will stand to ensure that they people have the needed public services they deserve, if elected.
"The Bakoteh street tap was closed for over 20 years, but was reopened within three days after I was informed by the communities."
"If elected, I will serve the interest of the community," she said, adding: "We are the PPP youths, representing the peoples' party. We will make so we do all that we promise you," she said.
Read Other Articles In Article (Archive)