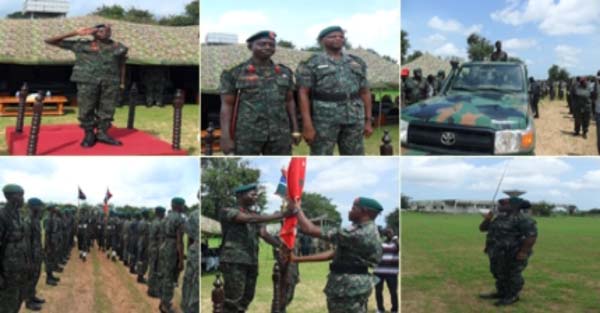 The 1st Infantry Battalion on Friday bade farewell to outgoing Commanding Officer Colonel Sait Njie, at a colourful ceremony held at the Yundum Barracks grounds.

Colonel Sait Njie, in his farewell speech at the ceremony, described the day as a day of mixed feelings for him.
He confirmed his appointment as the new commandant of the Gambia Armed Forces Training School.
He noted that they have achieved a lot of success together and thanked the loyal and courageous battalion (1st Infantry Battalion) for the cooperation and support.
He stated that the battalion under his leadership were engaged in a series of indoor and outdoor activities as well as registered successes in many areas.
He pointed out some of the issues affecting the unit which include logistics, saying that despite the challenges they remained resilient and focused on achieving success.
They also initiated and accomplished various projects within West Coast Region despite the financial challenges, he said.
The cooperation, sacrifice and loyalty to the unit that the 1st Infantry Battalion demonstrated during his tenure as commanding officer could not be overemphasised, he said.
He urged them to maintain the momentum as well as accord similar cooperation and understanding to the in-coming commanding officer.
He called on them to desist from participating in partisan politics as soldiers of the Gambia Armed Forces, saying in the new Gambia, the GAF leadership was tirelessly working towards rebuilding the dented image of the Armed Forces and focusing the minds of members of the military force away from the old order.
He said in the current democratic dispensation the Gambia Armed Forces needs to remain subordinate to the civilian authority as GAF is vested in the arm of the state and must exercise loyalty to the government of the day and country.
He highlighted that civilians appreciate the military for protecting the territorial integrity of the country and ensuring internal security rather than meddling in politics and governance.
In the new Gambia it was incumbent upon them to try to know the role of the military in a democracy, he said.
He explained that their main role in the new democracy should be to protect the constitution, government in power and citizens of the country.
In-coming Commanding Officer 1 Infantry Battalion Lieutenant Colonel Baboucarr Sanyang, in his remarks, thanked the command GAF headquarters for the trust they have in him to appoint him with the responsibility.
He commended Colonel Sait Njie for his leadership qualities as well as thanked him for adequately briefing him about the battalion.
He said with the commitment and quality of everyone at the battalion they would achieve something together.
"It is high time members of GAF made a U-turn and looked inwards to see and know the problems that they are facing," he said.
He added that capacity building is a very important tool that would improve the day-to-day activities of their unit and GAF as a whole.
Read Other Articles In Article (Archive)