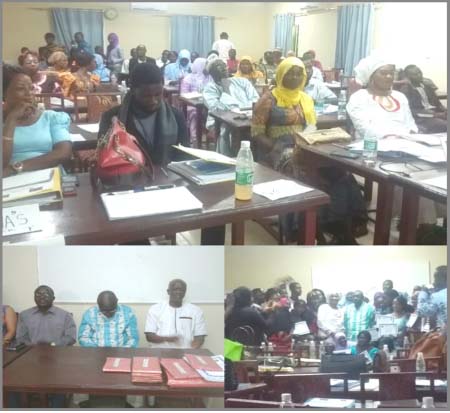 EMPRETEC Gambia on Saturday concluded a 6-day training workshop on entrepreneurship as part of series of events that it continues to organise to create more entrepreneurs in the country.

Held at the Entrepreneurship Development Centre in Bakau, the training was the 26th edition of such event and it was bankrolled by the Ministry of Trade, Industry, Regional Integration and Employment, and the UNDP.
EMPRETEC Gambia has so far trained more than 1,071 entrepreneurs and farmers across the country and provided business development services to more than 700 entrepreneurs and farmers.
Lamin Dampha, deputy permanent secretary at the Ministry of Trade, said it is through entrepreneurship that a country can be transformed for the better as "entrepreneurs are the game-changers and wealth creators of every nation".
Empretec Ghana director, Nana Buwateh, said the training was "very important and needful" as it was aimed at developing the human resource potential of the participants to be able to create more employment and wealth.
"The training will improve the quality and entrepreneurial mindset of persons that must convert whatever that is convertible into wealth in the country," he said.
Mariama Fatajo, export and business development officer at the Gambia Investment and Export Promotion Agency (GIEPA), said the training is expected to expose the participants to the basics of being a successful entrepreneur.
Lamin Touray, chairman of Empretec Gambia, said the Ministry of Trade has done a great job in generating policies with the enabling environment for aspiring entrepreneurs to emerge and flourish.
Joyce Mwama, a marketing and management student at the University of The Gambia and one of the participants, said she learned valuable basic skills of entrepreneurship such as planning, persistence and confidence which would go a long way to enhance her real life prospects in business.
The six-day training was geared towards a transformational change in agriculture and industry by unleashing the potential of small-scale farmers and micro, small and medium scale enterprises.
Empretec officials believed that this can be achieved through provision of programmed package of entrepreneurial and management skills training.
This is to be accompanied by a coordinated delivery of customised business advisory and mentorship services to develop a cadre of entrepreneurs that actually set up successful and growth oriented enterprises.
Read Other Articles In Article (Archive)