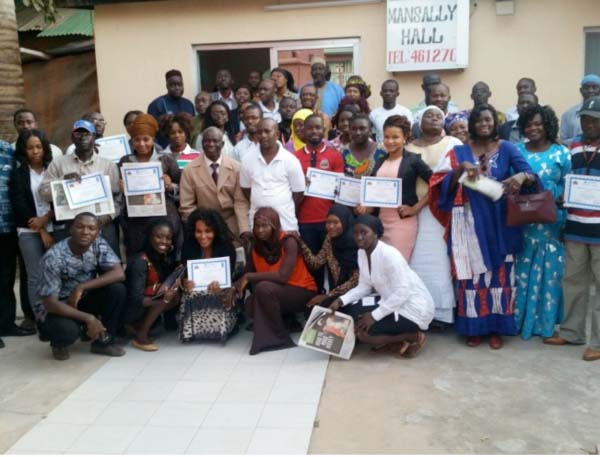 Empretec, a project being implemented by the Gambia Investment and Export Promotion Agency (GIEPA), Saturday certificated 32 young entrepreneurs after a six-day training on how to manage businesses.
They were the 18th batch of entrepreneurs trained by Empretec.
Speaking at the closing ceremony, held at a hotel a Bijilo, Fatou Mbenga Jallow, chief executive officer of GIEPA, told the training participants: "I hope all of you have learned a lot that you will apply not only in your businesses but in other works."
She said the government alone cannot provide job for everybody, so it is for the private sector to help.
"We have to create jobs and one of the best ways is to support and encourage entrepreneurship," she said.
Madam Jallow said a lot of resources have been spent and more will be spent but if the participants do not make used of the knowledge gained, the project will fail and that means GIEPA has failed.
She called on the participants to share their new gained knowledge and skills with others who were not opportune to attend the training.
"I hope that the already certificated entrepreneurs will help in marketing the programme when we reach a point where we have to ask people to pay," GIEPA CEO said.
She noted that when that time comes, GIEPA will do the marketing but the participants will also help them so that people will appreciate the benefits of the training.
Lamin Darboe, executive director of National Youth Council, said the fight against unemployment cannot be meaningful in Africa if people continue to consume and produce nothing.
He urged the participants to use the skills and competence learned in the training and utilise the potential of technology to become that entrepreneur to transform the economy and the lives of people.
Mr Darboe thanked Empretec for organizing such a training to give young Gambian entrepreneurs the competence, the skills and the attitude to become successful in the world of business and entrepreneurship.
Sukai Gaya Gaye, a beneficiary of the training, on behalf of other trainees, said the training has exceeded their expectations.
"It has practically shown us the way to succeed in life - not only in business but in our day-to-day activities," she said."We want to say a big thank you to GIEPA and EMPRETEC Gambia, and we promise to make positive impact as we leave this hall tonight."
Read Other Articles In Article (Archive)