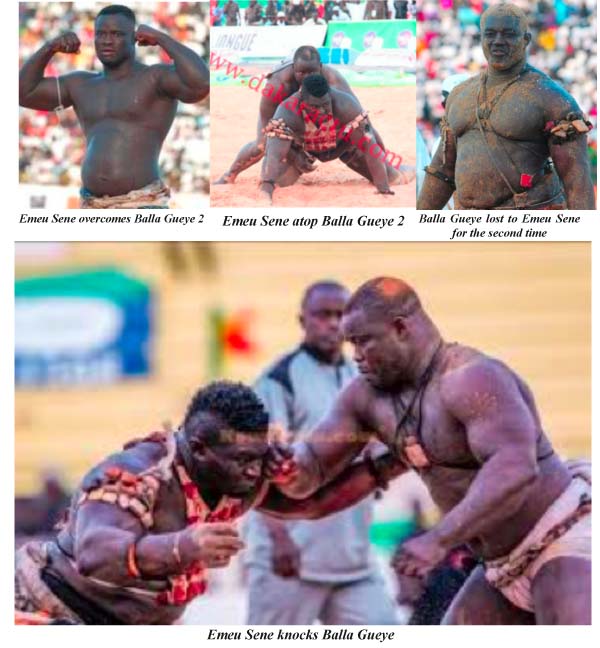 Emeu Sene has defeated Balla Gueye 2 for the second time during a five minutes bout on Sunday 5th April 2015 at the Stade Demba Diop in Dakar. Emeu Sene and Balla Gueye 2 are well-known Senegalese wrestlers.
Emeu took advantage of his calmness, concentration and experience to defeat Balla Gaye 2. After a face-to-face encounter of less than five minutes, Balla had both his knees and hands on the ground, signifying defeat according to the rules. Emeu Sene who was on top of Balla Gaye 2 knocked him ten times on the right side of his neck, and finally Balla Gueye 2 fell on all fours.
More than 30,000 spectators witnessed the bout organized by the Group Futur Media, and the two wrestlers were contesting the flag of Lamine Diack, outgoing president of the International Amateur Athletics Federation (IAAF).
Balla Gueye 2 told TFM that he has accepted defeat. "I believe in God; it was God's desire that I was defeated. I prepared well for the bout, and did everything possible to be victorious, but God was not on my side," he said.
"I am a young wrestler; my career has not ended yet. I have a long way to go and, in sports, you must encounter defeat or victory. I am not discouraged by the defeat, and I will continue my job."
"I am not happy at all to hear the statement of Emeu Sene, who accused me of going to his mother's tomb to dig it and put "juju" there. I am a Muslim; I will not do that. I have respect for Emeu and his younger brother. He defeated me; he has victory that he can boast about, but he cannot accuse me to tarnish my image," Balla Gueye said.
Emeu Sene said: "I am not happy about my victory, because some people went to the cemetery to dig the tomb of my mother and put "juju" there… and I will no longer wrestle against Balla Gueye 2", he said. Emeu Sene in his statement did not call any names.
Emeu Sene further said: "I thank God, all those who prayed for my victory, especially President Yahya Jammeh of The Gambia who offered me special prayers when I met him in Farafenni in The Gambia. He gave me lot of money, and facilitated my success and after my victory. I spoke to him on phone."
Emeu further said: "President Jammeh told me whenever I will contest a bout I will defeat my opponent."
"I am going to The Gambia this Thursday to thank him, and will offer Friday prayers there. I took my time to make sure that I will defeat Balla Gueye 2 for the second time.
Senegalese wrestling is famous and attracts lot of money for both the organizers and wrestlers, because of the sponsorship of businesspeople.
Read Other Articles In Article (Archive)