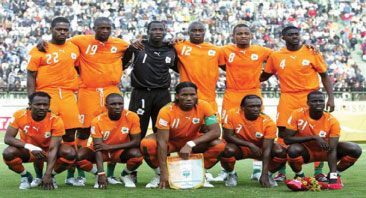 The President of the Ivorian Football Federation Sidy Diallo has for the first time made the Elephants usual workout before any match open to the pubic last after afternoon ahead of their World Cup qualifiers against The Gambia on Saturday.
The Elephants were at Felix Houphouet Boigny Stadium for a workout scheduled at 17 hours. The local media have revealed that before the workout, the Ivorian FA issued a press release stating that:
"The President of the Ivorian Football Federation informs the national and international sports press that in the preparation of the match, Ivory Coast / Gambia Saturday 23 March 2013, the workout for the Elephants scheduled for Thursday, March 21, 2013 at 17:00 at Stade Felix Houphouet-Boigny, is open to the press and the public.
"In any case, this is a first because previously, workouts were open to photographers and cameramen only for 15 minutes. This time, the data has changed. Sidy Diallo invites the public stage to follow the workout of his players long," L'intelligent d'Abidjan has revealed.
In truth, the president of the FA knows the coast of popularity and love for Elephants took a severe blow after the debacle of the 2013 CAN. Why, he sets out to conquer the Ivorians by being open to them.
The Scorpions arrived in Abidjan on Thursday after beating Niger National team 3-1 Thursday evening in Niger. Goals from Abdou Jammeh, Momodou Futty Danso and Momodou Ceesay ensured a positive result.
'I am very happy because the boys played very well and it is fundamental to win, but most important is the Saturday game,' said Scorpions Coach Luciano Mancini at the end of the game.
A pre-match prediction has given Ivory Coast 74.6%  as their  chances of winning, while  The Gambia  chances  was rated at 20.9%  and 4.5% was given as  chances of a draw between both sides.
Gabonese referees will officiate Saturday's 2014 World Cup qualifier Gambia against Ivory Coast match at the stadium Houphouet-Boigny.
The quartet is composed of Otogo Castane Eric Arnaud (center judge) Vinga Theophilus (first assistant), Jean Christian Engone Bibang (2nd assistant) and Yves Gaston Roponat Souleymane (4th referee).
Malian Souleymane Magassouba is the Commissioner and Tunisian Selmi Younes will play the role of referee assessor.
Read Other Articles In Article (Archive)