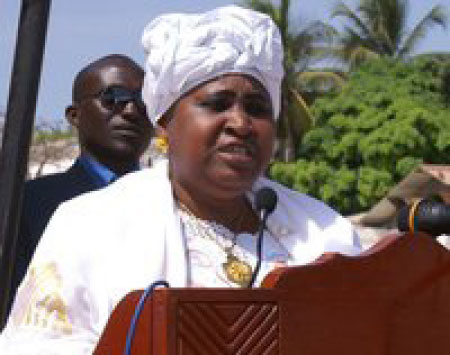 The electrification of rural settlements in The Gambia as part of government's rural electricity extension project is a priority of the Gambia government, Isatou Njie-Saidy, the Vice President and minister of Women's Affairs has said.
Vice President Njie-Saidy, who was speaking Tuesday during question and answer session at the National Assembly, said the rural electrification extension project, which is a continuation of the initial phase, is already on course and is to cover all the rural regions of the country.
Responding to a question by Hon. Pa Jallow, member for Jarra Central constituency, who asked how soon electricity supply will be extended to Jarra Central and East, the Vice President said a contractor for the extension of the works will soon be engaged.
This, she added, is an indication that electrification of the rural settlements is a priority of the government.
The Vice President told deputies that government is continuously looking for funds for expansion to cover additional settlements, and the Jarras are equally considered in this plan.
However, she stated that priority is given to settlements to be electrified at any given time based on economic and financial viability, as well as technical feasibility.
Meanwhile, Vice President Njie-Saidy also told deputies that the government is aware of the need for NGOs activities to be monitored, and established the NGO Affairs Agency through the promulgation of Decree 81.
This was in response to a question raised by Hon. Abdoulie Saine, member for Banjul Central, on the need to scrutinize and monitor NGOs in the country.
According to the Vice President, Article 13 of the Protocol of Accord signed between the Government and NGOs requires NGOs to submit an annual progress report, budget, work plan and an audited financial report to the NGO Affairs Agency, and that reports are verified through quarterly treks.
"This way, NGOs are closely monitored not only at office level but also at the community to avoid duplication, and make them accountable to both government and communities by enhancing community participation in their programme design and implementation", she added.
Read Other Articles In Article (Archive)