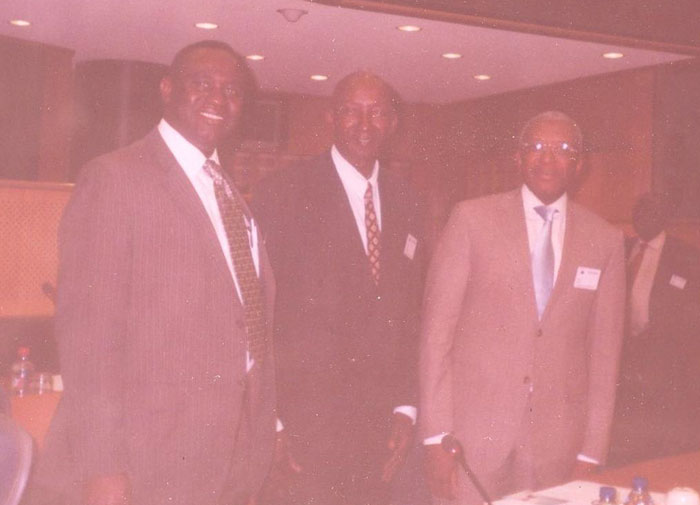 A delegation of the Ad-hoc Committee on Election and Direct Universal Adult Suffrage of the ECOWAS Parliament, including Hon. Abdoulie Suku Singhateh, National Assembly Member for Lower Baddibu, recently concluded a four-day study tour at the European Parliament in Brussels, Belgium.
The delegation made up of members of the ECOWAS Parliament was headed by Mr Mohammed Diakite, Mrs Isatou Combeh-Njie, legal adviser and Mr Sarriang Ceesay, former Gambia's Customs Director and now Director of Finance and Administration, all of the ECOWAS Parliament.
The tour, which is the second of its kind following the first one held in Kigali, Rwanda, covered topics ranging from the promotion of parliamentary democracy, political management of the European Parliament, the role of political groups in the European Parliament and the European Parliament finance and members statute and financial support arrangements.
Also part of the topics covered during the trip were seminars and visits, presentations on the European parliament, electoral laws and modalities, European Parliament relations with European Commission and Council, and the European Parliament from a talking shop to a central player in the European Union.
In an interview with this paper shortly after his arrival from the tour, Hon. Suku Singhateh commended the ECOWAS Parliament for according him the opportunity to be part of what he described as an educational trip.
He said the European Parliament is the only direct elected parliament comprising 785 seats. He disclosed that after June 2009, the parliament, 30% of whom are women, will have 751 seats including the speaker.
"Presently, there are a total number of 785 parliamentarians from 27 countries in the European Parliament and they have 23 spoken languages," he said.
On the ECOWAS parliament, Hon. Singhateh noted that preparations are already at an advanced stage for the parliament to go on Universal Adult Suffrage by 2010.
According to him, part of the study tour is also geared towards sensitising the people to the proceedings of the parliament.
Hon. Singhateh also disclosed plans by ECOWAS parliamentarians in the Gambia to embark on a tour of the entire country with a view to sensitising people to the ECOWAS protocols.
He also expressed optimism that the ECOWAS parliament would meet the 2010 target of going on Universal Adult Suffrage.
Meanwhile, Hon. Suku Singhateh was also in Guinea-Bissau where he took part in the ECOWAS parliamentary meeting on customs and free movement of people.
The meeting took place from 14th to 19th April 2009.
Read Other Articles In Article (Archive)