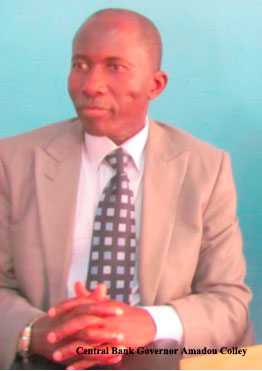 The Central Bank of The Gambia Tuesday presented its annual report to the joint session of the Public Accounts and Public Enterprises Committees (PAC/PEC) of the National Assembly.
The CBG was called upon to render account on its responsibility as a public body in accordance with the 1997 constitution.
Presenting the annual report, CBG Governor Amadou Colley told the PAC/PEC of the National Assembly that during his last appearance, he reported that the year 2012 and pervious years were full of challenges in terms of economic and financial management at the global and domestic levels.
The Central Bank Governor told National Assembly members that the year 2013 was characterised by even bigger challenges for the domestic economy, especially relating to weather and climatic conditions giving rise to a low agricultural output.
"Notwithstanding, the Bank with the use of its tools was able to achieve reasonable price stability," Governor Colley said.
"The Bank remains committed to improving its conduct of public policy and has continued implementation of reforms aimed at making CBG a more effective institution to enable it achieve and sustain a stable macroeconomic environment."
Mr Colley further informed the deputies that the mandate of the Central Bank is derived from the Central Bank Act 2005.
According to the CBG Act, the primary objective of the Central Bank is to maintain price stability.
The Bank is also mandated to promote and maintain the stability of the currency of The Gambia, and to regulate the financial system with the aim of facilitating sustainable economic development of the country
Dilating on the issue of the global economy, Governor Colley said global economic activity strengthened during the second half of 2013, but remained broadly uneven.
The International Monetary Fund "IMF" estimated global growth at 3.0 per cent in 2013, down from 3.1 per cent in 2012.
"Growth forecast for 2014 has been revised downwards to 3.3 per cent from an earlier projection of 3.7 per cent," the bank governor said.
Meanwhile, the PAC/PEC asked the Central Bank to face them again on Thursday.
Read Other Articles In Article (Archive)