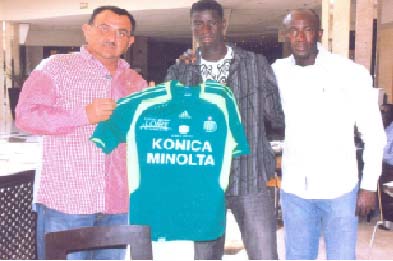 After agreeing a 4-year professional contract with French Ligue 1 giants St Etienne on Wednesday 24th June 2009, former Real de Banjul hitman Ebrima Bojang could not hide his satisfaction for being the first Gambian player to make a high-profile move to one of the top leagues in Europe, France.
The striker was in Atlanta Hotel in Dakar, together with Real de Banjul President William Abraham and St Etienne's representatives where the signing ceremony was held to end the speculation linking the 17-year-old with a move to the Italians champions Inter Milan where he underwent a one-week trial earlier this month.
"I am really pleased to sign for a big club like St Etienne, because they are a massive club and I am looking forward to putting the shirt on to be honest", said Ebrima.
"French Ligue 1 football is the dream at the start of any footballer's career so I am pleased I have been given that chance with St Etienne and I cannot wait to get started," the elated forward told Pointsport at his residence in Bakau Newtown on Saturday.
The former Samger prodigy who have been making the headlines on newspapers revealed that Inter Milan has considerations in acquiring his services after an impressive one-week trial with the Italian outfit, but the player's representative was said to be unhappy with the Italian champions because of their slow-approach in negotiations, paving the way for the St Etienne to sneak in.
Many other European clubs have also been mooted as a possible destination for Gambian striker, but the Ligue 1 side paid full attention to one of Gambia's hottest properties in recent times.
As part of his contract deal, Ebrima Bojang is expected to start his 4-year St Etienne's contract with Yeegoo FC, the French Ligue 1 feeder team in Dakar until he turns to 18, on March 2nd next season.
The 17-year-old was both the head and heart of Gambian U-17 side that won the African Cadet Championship in Algiers. He made no secret of his desire to follow the footsteps of the likes of the Brazilian superstar Ronaldinho, Chelsea and Ivorian hitman Didier Drogba and Frank Ribery and Zidane who all started their career in France.

Read Other Articles In Article (Archive)