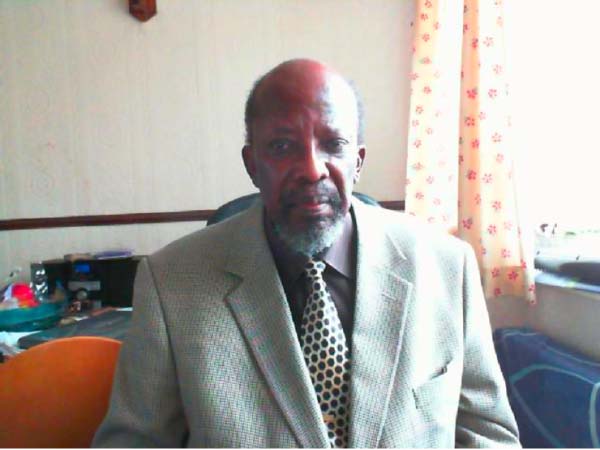 Having recently launched a book titled "The Very Reverend J. C. Faye: His Life and Times – A Biography", the author, Dr Jeggan C. Senghor spoke to The Point on the rationale behind writing the book and related issues. More generally, he dilates on the imperative of immortalizing African icons and distinguished leaders of the past.
An extract of the interview with Dr Senghor, a Senior Research Fellow at the Institute of Commonwealth Studies, School of Advanced Study, University of London, follows:
What actually motivated you to write a book on the life and times of the late Very Reverend J.C. Faye?
The principal motivation for writing the book was to put on record the life story of one of the more prominent personalities in The Gambia's recent history. Very little that is comprehensive and all-encompassing had been published on this subject. Luminaries of Rev. Faye's ilk have not been celebrated and it was important that we put on permanent record their life achievements and the contributions they made to our country. Also noteworthy, in this regard, are the personal sacrifices that they made for the benefit of generations to follow. More on this issue when I elaborate on the larger context for the biography.
Talking about motivations I must also mention the personal dimension. In too many ways to mention Rev. Faye made a huge difference to my life, as he did to so many within and outside the family. Growing up, observing and interacting with him, I was aware of the greatness of the man, his deep commitment to his people and country, and the lengths to which he was prepared to go for their betterment. Uncle and I subsequently agreed on the need to research and publish his biography. We got going and even went so far as to do an outline and agree on a table of contents. Even when I was working and living overseas during my visits home we would spend many hours in discussions and do a page or two. Obviously though this modus operandi was not likely to yield much fruit. In time, the project died a natural death, confirmed with his own death in December 1985.
On a visit to Banjul a few years ago a close friend casually raised the subject. This ignited in me an intense commitment to revisit the project-idea, and possibly, revive it. I then decided to grab the gauntlet, to get the job done, and done thoroughly. It was to take priority over all other research engagements, official and personal. Discussions with Faye family members were positive and, in fact, in so many ways they offered the fullest support. In particular, Adele Faye-NJie, Rev. Faye's daughter, was a pillar of support; as noted in the Acknowledgements in the book, without her there would have been no Faye biography.
As they say, the rest is history!
Why are such projects not undertaken by governments, in general, instead of being done by family members and friends of the subjects of the biography?
Rather than expect governments to undertake research such as for the biography project, perhaps the maximum to expect is that they create a conducive environment for individuals to undertake the assignment – as is supposed to be their role in these days of international capitalism and globalization. We still expect too much from governments; regrettably, much as some of us may not like it the days of omnipresent and omniscient states/governments are fast disappearing. The individual, through the private sector, is supposed to be the dominant actor in national affairs.
But then your question is still pertinent if it reads: why at the level of the individual are people not motivated to do research as for this biography?One reason, I daresay, is that throughout the continent people have other priorities. Survival and making-ends-meet is of the highest priority; and this can sap one's intellectual and creative energies. And publishing is definitely not a means of making money. I hear, by the way, that non-Gambians patronize bookshops much more than do Gambians. Let me hasten to say that, in fact, this has been the experience with several of other books retailed at Timbooktoo's, especially The Politics of Senegambian Integration, 1958 – 1994 (Peter Lang International Academic Publishers: Oxford, 2008). I think I agree that, all-in-all, the inclinations, motivations and the incentives to do biographies of this genre are hard to come by.
These must be some of the reasons why independent bodies and individuals do not embark on writing biographies; rather, they leave it to family members.
Africans don't read, it is widely perceived. What are you doing about the reading culture in The Gambia as you write these books?
This is related to the last point above: if people don't write then it is logical not to expect them to read. It is said that in general Africans are an oral people, and that ours is an oral culture. We sing and dance more than we read and write. It is for those who agree to confront the issue and see how the situation can be changed. How to promote good reading habits is for another forum. But let me say here and now that the cost of books may be another factor. This is one reason why the price of this Faye biography is so reasonable. May I also add that it is in other to encourage reading that we plan to deposit one copy of this biography in the libraries of senior secondary schools in the near future.
Let us now turn to the substance of the biography. Tell us more about the Very Reverend J. C. Faye. I know that this cannot be done briefly in an interview of this type, given that the book is over 370 pages long. But do give it a try.
Let me begin by quoting Alhaji A. E. Cham Joof who in his oration at the funeral of Rev. Faye, his mentor and leader, said:
In the 20th century few equal and surely none surpasses the Very Reverend John Colley Faye, in wisdom, in character, and in achievement. History cannot proceed by in silence.
Rev. Faye was a man of many parts. But the book focuses on four which occupied much of his life, that is, education, the Church, the politics of decolonization, and philanthropy broadly conceptualized. Each of these was independent and yet intertwined with the others, so much so that the whole ends up not being the sum of its parts.
I shall try to be brief. As an educationist Faye created and transferred knowledge to thousands of young and not-so-young minds. The coverage was vast – teaching in selected top schools in Banjul, (St. Mary's, Methodist Boys High School, Methodist Central Junior Secondary School, 1936 to 1942), then Kristi-kunda School (KK, URD, 1942 – 1949). He was then very instrumental in planting the Parsonage Nursery School (later J. C. Faye Memorial School, Banjul, 1976 – Date), and the Anglican Vocational Technical Centre (AVTC, Farafenni, 1976 – Date).
As a clergyman, Faye was made deacon in 1947, ordained priest in 1973, priest-in-charge in 1974, and Provost in 1977. The early stages of his career were bedeviled by such issues as combining politics and the priesthood, his professional training or lack of it, his appearances in court, and his designation. Nonetheless, he earned much respect from among his colleagues and his Christian virtues recognized and appreciated.
Service to humankind constitutes the bulk of Faye's philanthropic activities: these ranged from his role in the Produce Pilot Syndicate, to his management of the House of Transfiguration at No. 2 Pignard Street in Banjul, and free evening classes for mature students whether at Kristi-kunda or Banjul. Countless are those who benefitted from his payment of their school fees and such generosities.
How about his politics? I see that this takes up the chunk of the biography.
Yes, indeed. Overlapping with Uncle Faye's functions as a clergyman was his activism in Gambian politics over a 20-year period from 1947 to 1966. As I said in my remarks at the book launch here we see him almost at his best, in constant combat with the colonial order, manifested through a series of sustained struggles: the struggle to accelerate the pace of constitutional advance; the struggle to bridge the gap between the political leadership from the Protectorate and the Colony; the struggle to contain the emergent forces which were to compete with his Democratic Party for the middle ground…Then there was the struggle to build a united front among the political parties; here success was limited though at different times he managed to orchestrate alliances with one or two of the other parties. May I add on this that Faye organized the first political party in the country, the Gambia Democratic Party, in February 1951.
All this is very impressive. It is a very rich study from which one can learn a lot. Is this to be a stand-alone work or is it part of a more comprehensive programme?
A very important question. Quite early in the process of conducting the research on the J. C. Faye biography we realized that there were other personalities of the day to whom posterity must also give honour and recognition. They have made personal sacrifices for that which subsequent generations have merely taken for granted. The memories of these titans must be preserved, first and foremost, through research and recording of their deeds and, in particular, their contributions to nation and society.
Unlike other African countries where the lives of nationalists have been well documented in our country they are still largely unknown. The young ones are therefore deprived of their inheritance. Sadly, the school curriculum has only limited place, if any at all, for knowledge of this type.
These and related considerations motivated a team of researchers in The Gambia, the United States and the United Kingdom to launch the Gambia Leadership Programme (GAMLEAP) in 2011, within the institutional framework of the Centre for Research, Development and Social Justice Advocacy. The Programme consists of a number of projects, amongst which is "The Gambia: Leading Political Personalities in the Decolonization and Early Post-Independence Era – The Biography Project." The J. C. Faye biography is the first output of the project. Under preparation are those of some of the other stalwarts, namely, Edward Francis Small, Ibrahima Garba Jahumpa, Pierre Sarr NJie, and Sir Dawda Jawara. A biography of Sir Samuel Forster will serve as a bridge between generations of leaders in the political realm. More details are to be found in Appendix III at the back of the book.
Whilst awaiting the completion of the full-length biographies an edited book of abridged versions of these biographies is expected to be published in the course of this year. So also will a collection of portraits of what we call "second tier" leaders, both past and present, in politics and other walks of life.
From the above you can see that we have a lot on our collective plates. No doubt there is the commitment. We are also encouraged by the fact that since the publication of the J. C. Faye biography there is evidence of genuine interest in the man and in the biography project as a whole. The feedback has been tremendous. A number of persons have even ventured to invite us to include their relatives in the programme. Thus, our objectives are being realized. People are reading – to go back to a subject you raised earlier.
I am so pleased that there is the evidence of a reading culture. I am sure the subject of the book is an obvious factor, and the marketing. Can you just say a word or two about the other projects in the GAMLEAP programme?
I call these our dreams. First, there is the overarching dream that every three years or so one week will be designated National Heroes Week during which the limelight will shine brightly on our heroes of yester-year: exhibitions will be held; conferences, seminars, workshops organized; public lectures will be delivered by distinguished African personalities – all related to the question of the challenge of leadership in Africa. Other projects include the production and screening of film documentaries on each of the luminaries, based on material collected for the biographies, and the naming of streets, public buildings after these heroes. Scholarships will be awarded to younger researchers to encourage them to generate and disseminate new knowledge on the subject. No doubt, in time, other projects will emerge.
Dr Senghor, this has been a most informative interview. It has been a privilege and I thank you sincerely for it. I am sure your dreams will come true and look forward to talking to you again in the near future. Thank you again.
Thank you too for conducting the interview.
Read Other Articles In Article (Archive)