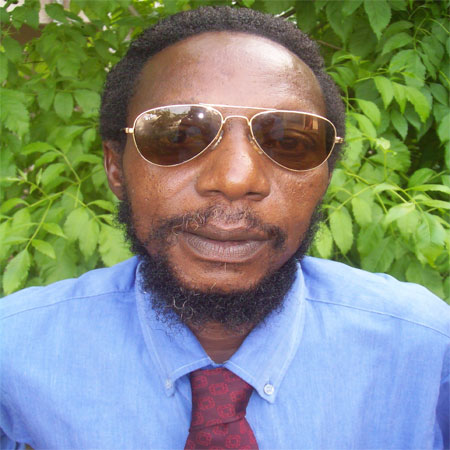 Many herbal doctors have emerged and many more continue to perform wonders. Doctor Abdoul Kadry Jeylan Trawally, born in Sankulakunda in CRR has joined the wagon of those curing but his is with a difference as he has done his research and has been in it for 24 years. He left the Gambia and finally picked up the job doing his research in medicinal plants and animals.
He has combined the Western technology to arrive at a conclusion there by curing three major ailments, though he can cure all but specialises in skin infection, ulcer and asthma. Hearing about President Jammeh's medicinal powers in curing so many people, he is longing to see His Excellency to share with him all that he has acquired and to see what way forward for him but this has not been possible yet. This young Gambian is poised to set a trend in The Gambia if assisted. He has the cure for several other ailments especially obesity. Read about this man medicine man without borders who worked assiduously in Dakar and showed his medicinal powers before leaving for The Gambia to share his gifts with his own people. Please read on as Society and Development investigates from this tireless traditional doctor.
S&D: Please tell me about yourself!
Dr. AKJT: I am a born Gambian from Sankulaykunda in CRR. I entered NusratHigh School in 1984 and upon completion I moved to Senegal as a Scientific Researcher on Medicinal Plants and animals. This took me to SheikhAntaDiobUniversity. After my long duration of research for control of Toxicology and various drugs, I was able to pass my test on the Fabrication of Syrup at the Department of Medicine and Pharmacy, under the command of Professor Yerim Mbaygne Diop, head of Toxicology at the university.
S&D: Did you specialise in any one area in herbal medicine?
Dr. AKJT: I can cure all but we are limited. I am particularly specialised in skin infection, ulcer and asthma. Many times in Dakar I was able to intervene and cure with my local medicine and I still have the drugs and I can still do it. Skin infections known as "Kuli," and ulcers and third degree ulcers I helped in curing when the hospitals were ready to do an operation.
S&D: Is that all you surprised the hospital authorities with and is there more you can do?
Dr. AKJT: Asthma I have cured and I have given final treatments to diplomats in Senegal and they will always remember that. These are tropical diseases which I was authorised by the Senegalese authorities to cure. Obesity, which is the biggest sickness in the USA and considered the highest serious case, more than AIDS, I can cure well. I found the herbal leaves that can cure this obesity in abundance in my village and in Kanilai.
S&D: What are you prepared for?
Dr. AKJT: I am prepared to show all my work in medicinal plants if I am kindly given the opportunity to meet our President, Dr. Yahya AJJ Jammeh. He has proved to be a champion in this area and he is an outstanding and an acclaimed figure in the area of medicinal plants. I have sent letters to him and I am still waiting for his reply to start a big thing in my country.
S&D: Why did you come home?
Dr. AKJT: I went to look for something and I am glad that I got it. I did it successfully for self and national self- development. I returned on 17th June 2008. I have since been trying to see the President of our nation but to no avail.
S&D: Why do you want to see him?
Dr. AKJT: I want to see him because I have just completed my research in traditional medicine and he is a champion in the area. I came with an option of operating in my own country and to help in building my nation in the health sector. I have not yet started work and I want to start. I need help to help others gain better health.
S&D: Have you contacted any body since your return?
Dr. AKJT: I have tried. I visited certain places but there has been no success but I am longing to meet President Jammeh himself who cares for the welfare of everybody.
S&D: Did anyone recommend anyone to you to contact with such a medical knowledge?
Dr. AKJT: Yes! I was recommended by the Gambia High Commission in Senegal to meet President Jammeh and the authorities of the Gambia on two occasions. Here are references of the letters given to me. The first one is Ref.: AAF 96/137/01/ (13-KOK). The second letter is Ref.: AAE/32/109/01/ (17-SMK), both in 2003 in June and September respectively.
I have written to His Excellency several times on my return and I attached these letters but there has been no request from him to have an audience with me. My plan now is to pass the information to the press so that the President will get to know about me with my potential and to know that somebody went for research in herbal medicine and he is qualified and has returned for nation building and national development drive.
S&D: Would you say Gambians know about your work?
Dr. AKJT: Many Gambians did not know about my work. I stayed in Dakar for many years and many of my friends thought I was dead, only my family knew that I was alive and kicking and what I was doing.
S&D: Have you cured anyone since you returned to your home country?
Dr. AKJT: Oh yes! I have many evidences in the cure of asthma, "Kuli" and ulcer especially my neighbours. I am an educated herbalist I need to do my job in a clean place. I cured a lot of people when I went to Kanilai with Gamcel /Gamtel. My advice was also a cure for those who were there.
S&D: What did you say to them that they would remember always?
Dr. AKJT: People who do not go to toilet I said; get red eyes and the food has to be decomposed. The heat comes out and makes the eyes red. Some would be young and will get grey hair. Their sex becomes weak and slow. There are people who sex and their sperm comes out. First precaution: Difficulty in going to toilet for days. It is because of the lack of mobility of the muscles.
Cure: Put onions into tin milk in a cup and let it stay for five minutes and take out the onions and leave the mobility and drink the milk, it facilitates your bowel movement easily you go to toilet freely and other complications will go.
The other is soak sorrel into water and add salt, leave it and go to work, at night you drink three "Attaya" glasses of it, in the morning and evening. You will go to toilet and get good erection and appetite. You will also get a clean urinary pipe. It is also good for cleaning women through menstruation.
S&D: Any message to your countrymen?
Dr. AKJT: I advise Gambian authorities to control foreign herbalists who give drugs to people and move on to other places.
S&D: Any last words as a man with unlimited knowledge in herbal medicine?
Dr. AKJT: I have a lot in me to share. I only need to see President Yahya AJJ Jammeh and my desires would have been fulfilled. I want to talk to him and he will understand me then I can start my work. Presently people are coming for help but I want to see our president then can do more.
Doctor could be contacted on the following numbers 9997943, 7648254 or at 33 Sutura Street, Kanifing South.
Read Other Articles In Article (Archive)