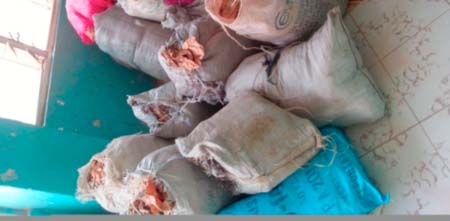 Ousman Saidybah, acting public relations officer of Drug Law Enforcement Agency (DLEA), has said his agency maintains its stance on zero tolerance on illicit drugs and will not relent in their efforts at making The Gambia drug-free.
Mr Saidybah made this statement in an interview with The Point at his office in Pipeline recently.
According to him, within the supply front, Drug Law Enforcement Agency (DLEA) operatives stationed within North Bank Region, West Coast Region and the Kanifing Municipality made some arrests relative to drug trafficking one Lamin Kuyateh a Gambian national was nabbed by operatives with a 4 kilograms of suspected cannabis sativa.
He is presently in custody helping officers in their investigations, also within the West Coast Region operative stationed at Sibanor also made some arrests of suspected persons in the name of Alasan Kah, Amadou Bah, Omar Jah, Demba Jallow and Samba Sowe all Senegalese nationals and Ebrima Sowe Gambian were nabbed collectively with more than 100 kilograms of suspected cannabis sativa they are also in custodycharged with possession of suspected cannabis contrary to section 43 sub-section 4(e)under drug control act revised law of The Gambia.
Also within the West Coast Region, one Modou Lamin Darboe was nabbed with 11kg of suspected cannabis sativa and within the kanifing municipality operatives also nabbed one Musa Dem, Sheriffo Gajigo, Sering Senghore with 7kg of suspected cannabis sativa this is joint case they were arrested at Kololi operatives stationed at Brusubi, CTI Complex they are presently in custody and will also be shortly arraigned in court.
Adding that, within the drug demand front we are equally engaging the public as highlighted in section 15 of M&G respective law of the drug control act which mandated the agency to give publicity, sensitize the youth about the effects and dangers associated to drugs and then foster the public support in the fight against illicit drugs abuse and trafficking.
Of recent, we have been engaging youths and school children local authorities (both village alkalos and district chiefs) at both regional and district level all gears to public participation by joining the bandwagon in the fight against illicit drugs abuses and trafficking because it is not possible for the law enforcement officers to be everywhere and the same time. Henceforth public support and participation is paramount if the agency is to realize drug free.
This is why the agency came up with a drug demand targeting children, religious leaders, youth groups, schools, health promotion unit because drug demand reduction concentrates on three key things - prevention, treatment and care .
Noting that, in The Gambia we don't have rehabilitation centre and it is important that we embarked on sensitization in preventive mechanism which actually believed would effect changes and would actually keep away from drug-related issues.
It goes to the conviction and incarceration of people, the goal is not to lock them up but to reform, rehabilitate and re-integrate them in to the society.
As part of their programs in celebrating world drug day every 26th June annually, his agency will embark on nationwide tour in sensitizing youth groups, schools on the dangers associated with drugs and many other activities would carry out as part of the celebration before the actual day, and institutions like National Youth Council, health promotion unit and other key stakeholders would not only be invited as participants but as partners from planning stage through the end of implementation.
The take home message is that people should desist from drugs, there is nothing good about it, I quote Kofi Annan who said we need to spread the understanding that drugs spread violence, crimes; separations of marriages, street children, juvenile delinquency, and besides these drugs do not know your religious and political affiliations.
Adding that, the group that are affected by drug consequences are the youth and they are the future manpower suppliers of the population and "I call on my fellow youth to keep away from it; if not the long arm of the law will find you" and most cases they ended up regretting.
Read Other Articles In Article (Archive)