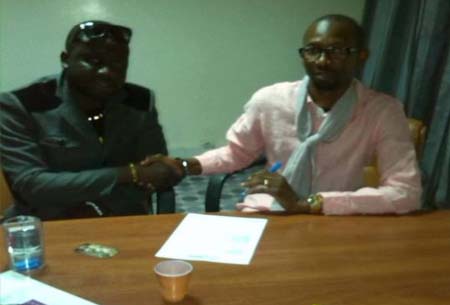 DJ Lil Sisqo, a Gambian disk jockey (DJ), actor and producer, has signed a production deal with TFM (Group Future Media) in Dakar, Senegal.
The deal includes plans to produce TV series that will be aired weekly and repeated up to two times in a week to produce, direct, write and act in the TV series.
Development on these projects was planned for late January this year, according to both parties.
Speaking in an interview with Point Entertainment and Lifestyle recently, Momodou Lamin Touray, alias DJ Lil Sisqo, Chief Executive Officer of the Norway-based 2-RAYZ SYNDICATE, said the multi co-production and development pact extends from film and television distribution to live stage show adaptations.
"After a whole week of negotiations with the management and team of TFM, I finally got a deal. I had an intensive indoor meeting with the King of mbalax, the owner of TFM Youssou N'dour, with his managers and advisers, who really loves and appreciates my productions," Sisqo said.
He added that after his presentation, he wasted no time to give a big applaud in his charming voice, without second taught.
"Mr Touray, your work is great and it is high quality production," says Sisqo of N'dour, who he said was impressed to see such quality production and wasted no time to endorse his products.
He said N'dour promised to have a great partnership and everlasting relationship with 2-RAYZ SYNDICATE.
Sisqo explains that at the end of the meeting he entertained them with nice jokes and believes he can transform them into a TV series.
"Then I was redirected to Mr Ndiaga Ndour the new Managing Director of TFM, to have a general meeting about the agreement deal, terms and conditions and the whole production at large," he said.
He describes the deal as a homecoming of sort, reuniting him and some other renowned actors.  "I will also strive to promote new talents," he concluded.
Meeting with kings of reggae
Over the years, Sisqo has had the opportunity of performing with many well-known musicians, such as reggae legend Peter Tosh in Jamaica (where Hinze's CD, King of Reggae, was recorded), the great producer Michael Gibbs in London, and The Brecker Brothers in the USA.
He has also played with fellow flautists James Moody, Paul Horn, Raghunath Seth, Herbie Mann and Don Burrows at major international festivals.
Many of these performances were recorded.
Read Other Articles In Article (Archive)