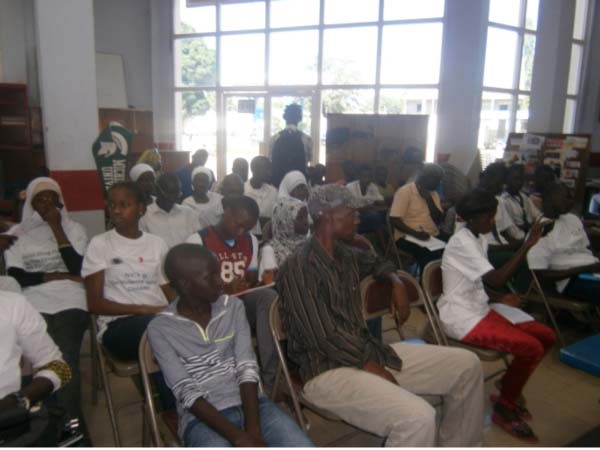 Youth from different organizations in the country Wednesday attended a panel discussion on youth and illicit drugs organsied by Youth Consortium for Progress (YCP), held at the American Corner along Kairaba Avenue.
Speaking at the discussion, Dawda Samba, WHO Rep, said every year they celebrate World Drug Day which is usually commemorated in June, and this year due to the Ramadan they could not celebrate the day.
He said the engagement of young people to abolish the use of illicit drugs is the primary focus of YCP.
He said licit drugs are drugs that are prescribed to someone who is sick for medical reasons like Paracetamol among others, while illicit drugs are substances that are being used without medical advice or reasons.
He said the first type of drugs that are rampantly used by young people is alcohol.
Mr Samba said the second type of illicit drug that are commonly used is prescription drugs or over the counter drugs which young people named "blue blue".
He said the other types are the illegal drugs and the commonest one is cannabis or marijuana, cocaine or heroin.
He said the fourth type of illicit drugs is volatile chemicals, adding that all this are not good for the health of young people and it contributes a lot to mental problems affecting the young.
Ousman Saidybah from NDEA said with drugs people are either affected directly or indirectly.
He said the youths are the future leaders and as such they should treasure themselves, adding that they are not saying they would do things and later change because the things they would do may be minor to them but it could affect them for the rest of their lives.
He added that if you talk with most addicts, they would tell you that the first use of drugs is always voluntary, adding that people who get into it with the hope of controlling it but as their system becomes tolerant, the dose that they take could no longer give them the required feeling and they would increase the dose and would start with a stick, move to a packet and then to all sort of drugs.
Ahmed A. Salami, Finance Director YCP, said YCP is a registered non-profit organization with the aim of empowering Gambian and African youths to pursue their dreams through the provision of courses on career counseling among others.
He thanked the American Embassy, American Corner, NDEA, and Gambega and Finish Profile for their support in making the event a successful one.
"As we pray for continuous development in the country, we should also think about the sustainability of the development and work towards creating a drug free and polluted free environment by reducing the activities that can cause impact in our society and communities," he said.
Read Other Articles In Article (Archive)