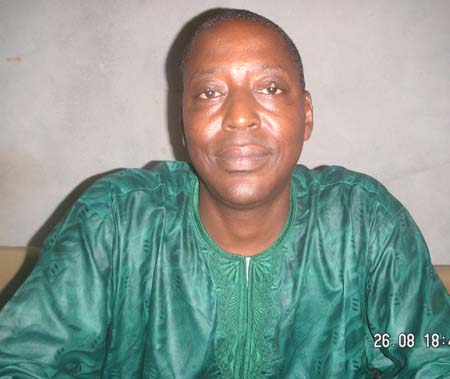 Essa Khan, the Executive Director of National Disaster Management Agency, has said that close to twelve thousands (12,000) people have one way or the other been struck by disaster in The Gambia, of which 75% are women and children.
Mr. Khan, who was speaking to our reporter in an exclusive interview over the weekend, said despite the latest compilation of data, the tendency is that the final figure may far exceeds the current estimated 12,000 people country wide, if the trend continues.
According to him, some disasters are natural phenomenon while others are due to human activities, such as environmental degradation, settlement patterns, among others.
"There are Regional and Municipality Disaster Committees across the country, headed by Mayors and Governors working in collaboration with humanitarians bodies, NGO's and the relevant government authorities in assisting disaster victims temporally before the intervention of government and other humanitarian aids," he stated.
Mr. Khan further revealed that some of the task or mandates include the evacuation of disaster victims and provision of temporal shelter, disaster assessment, and issuing press releases with regards to disaster.
He called on the relevant authorities, such as the National Environmental Agency, Forestry Department, Water Resources, Parks and Wildlife Management, to collaboratively conduct environmental impact assessment detailing the impact of disaster, and thus recommend possible ways of averting man-made disasters.
Mr. Khan further urged NGO's and other humanitarian bodies, working with regional and municipal councils to share and harmonise data collected during disaster assessment, and to standardise data before sending it out to international donors for possible assistance.
"When disaster strikes we respond based on human charter, that is assessment credibility and severity in terms of damages and the rights to the more affected victims," he stated.
He then used the opportunity to commend all those who have contributed in one way or the other in assisting disaster victims, while appealing to other development partners to complement government efforts in supporting disaster victims.
The recent floods have gripped most parts of the country, notably the Kanifing Municipality, where it was reported to have affected as many as 525 families, rendering them homeless following heavy down pour in the last couple of weeks.
The villages of Barra and Essau in the North Bank Region were also hard-hit by floods last Wednesday night, destroying over 45 compounds.
Read Other Articles In Article (Archive)