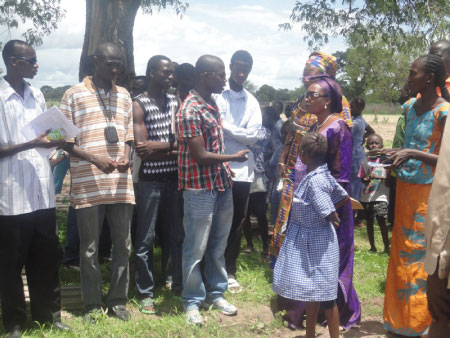 Stakeholders from Child Fund and Food and Agriculture Organization, affiliated partners and a cross section of the community of Sangajorr on 19 July 2012 witnessed a launching of Ding Ding Bantaba telefood project on vegetable gardening costing US $10,000 in a ceremony held in Sangajorr village, West Coast Region.
The project aimed at supporting the Jamorai Youth Organization through Ding Ding Bantaba in self-reliant initiative such as the horticultural gardening.The 12-month project is funded by FAO to the tune of US$10, 000.
Speaking at the launching ceremony, Mariatou Njie, Assistant FAO Representative (Programme), said the project is for a period of one-year. Telefood is a global annual campaign dedicated to increasing awareness about hunger and food insecurity as well as to raise funds for micro-projects designed to "help the hungry help themselves".
According to her, since its inception in 1997, Telefood initiative has globally generated more than US$29 million in donations and has enriched the lives of many in the developing world including The Gambia.
To date 1,461 Telefood projects have been approved so far in African countries and The Gambia has also benefited considerably from the Telefood funds.
These projects are in horticulture, fisheries forestry, livestock, honey production, water control and food processing among others.
"Women are the main food producers in the rural areas of most developing countries including The Gambia, where the majority of the world's hungry live and with Telefood assistance they are able to increase local food production and thereby ensure greater food security for their families as well as generate cash income," she added.
The launched project, which is implemented in collaboration with Child Fund, aims at creating an income-generating activity for 85 youths as well as to enhance food security and reduce malnutrition among children in 30 families in the community. It is also envisaged that it will help beneficiaries to be self-sufficient in food production, improve nutritional level of families and also enhance their earning capacity to reduce poverty.
For his part, Mustapha Kebbeh, programme manager for Child Fund, said Child Fund is a child protection agency supporting children from all categories, from 0-5 years, 6-14 years, cohort in getting education and youth category on livelihood skills trainings.
To him, for the past 27 years, his agency has been working tirelessly supporting the welfare of Gambian children and youths in all aspects of developments, and is currently working with 6 federations including Ding Ding Bantaba, who are benefitting from the project.
He added that each of the federations developed 3-year Area Strategy Plan in consultation with stakeholders and the communities of the various areas for their input in the document.
Child Fund will continue to give moral and technical support to its affiliated partner members in the interest of development, he assured the FAO.
Molamin Kujabi, site chairman of Ding Ding Bantaba, commended the FAO and Child Fund for their unflinching support, describing the move as a step in the right direction.
Musa Niassy, chairman of Jamorai Youth Organization, said his organization has recognised the need for youth participation in nation building, which can only be done if the youths are empowered with skills to be self-reliant and create employment opportunities among others, which, he said, Child Fund and FAO are doing.
Read Other Articles In Article (Archive)