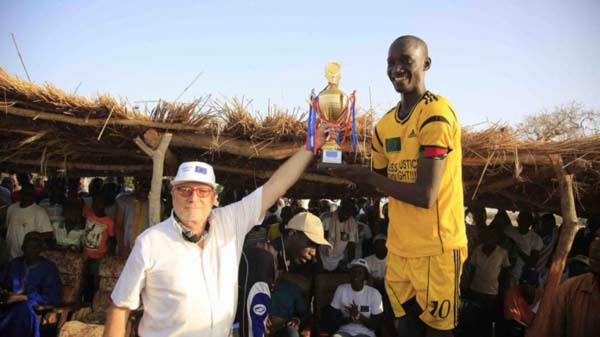 [endif]
Muhammed Bachilly scored the only goal of the game for Diabugu Batapa FC in the 86th minute to ensure his side go home with a giant trophy and a cash prize of D15,000.
The competition, organised by the National Council for Civic Education (NCCE), brought together 4 teams, namely Kurau Arfang FC, Diabugu Batapa FC, Misira FC and Sareh Demba Toro FC.
Diabugu Batapa FC made it to the final following their 1-nil win over Sareh Demba Toro FC in their semi-final encounter played at the Diabugu Batapa School football field while Kurau Arfang secured their qualification to the final after overcoming Misira FC by the same score-line in their semi-final game played at Kurau Arfang School football ground.
As runners-up, Kurau Arfang FC received D7,000. Misira FC and Sareh Demba Toro FC each received a consolation prize of D4,000.
All participating teams each received a set of jerseys while their fans were given t-shirts, scuffs, caps and flyers.
Isatou Bittaye, Senior Program Officer at NCCE, in her remarks, thanked GFF Technical Director and everyone that contributed towards the success of the tournaments in the 3 regions.
Madam Bittaye explained that, the tournament is part of the civic awareness campaign under the Access to Justice and Legal Education Project funded by the EU.
She said the goal of the tournament is to enhance young people's participation in Access to Justice Project as well as to gather young people to educate them on civic rights and responsibilities on available mechanism of accessing justice in The Gambia.
She described young people as important and critical in national development and as such it is important to sensitise them to serve as messengers of spreading the message of justice and peace.
She said they were very satisfied with the performance of all the teams that took part in the 3 regions.
She observed that young people mostly do not take part in civic awareness issues such as community meetings, training, radio programs.
Therefore, she noted, through football they could be reached to educate them on their civic rights as well as on how to access justice in the available justice mechanisms in The Gambia to ensure "we all live in peace and harmony".
She also said that they have seen community members take ownership of the project "which is very impressive".
Shelley Liberto, EU Access to Justice Team Leader, in his remarks, said the project is to raise awareness of people throughout The Gambia about their civic rights and how to access them.
He said as players go forward in their careers within football or whatever they decide to do, access to justice is their rights.
Muhammed Ceesay, URR Football Association representative, described football as the most efficient tool to bring youth together, saying football promotes core values of "our lives such as discipline, teamwork, fair play".
The tournament will improve their understanding on political and civic rights and responsibilities, he said as he commended organisers of the tournament.
Jahara K.S. Juwara, Chairman of Basse Area Council, speaking on behalf of URR Governor, thanked the EU for funding the tournament.
He said choosing football is one of the best avenues for Access to Justice for youth of the region, saying football is a means of getting people together.
Mr Juwara described youth as cream of the nation and as such it is important they are empowered.
Adama Keita, the Diabugu Batapa coach and Talibo Gibba, coach of Kurau Arfang, both commended organisers of the initiative.
Read Other Articles In Article (Archive)