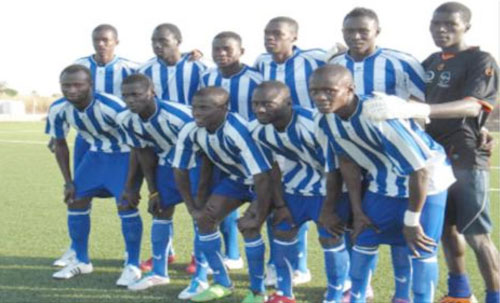 Moroccan side DHJ on Saturday defeated Gambian FA Cup champions Gamtel 2-0 in the first leg of the second round tie of the 2014 CAF Confederation Cup played at the Brikama Box Bar Mini Stadium.
Both teams played offensive and defensive football launching several goal-scoring attempts at each other throughout the first half of the match with no scores.
When action resumed in the second half, both sides brought in several fresh legs to boost their attacking tag but the visitors were able to contain the host in the midfield and created serious goal opportunities.
DHJ opened the scores through substitute striker Ayoub Nanah in the 59th minute of the game from Bakre El Helali's spectacular cross to give the visitor the lead.
Ayoub Nanah netted the second goal in the 85th minute of the game following a brilliant combination with John Lengouabiama to complete his brace.
Gamtel responded back quickly and created few goal-scoring opportunities but could not break through DHJ's formidable defence line, thus the game ended 2-0 in favour of DHJ.
DHJ now need only a point in the second leg next week to progress to the group stage of the 2014 CAF Confederation Cup but they would also need to avoid a massive defeat against Gamtel in the second leg next week to sail to the group stage of the 2014 CAF Confederation Cup.
Gamtelnow need to beat DHJat least3-0 to reach the group stage but a draw against DHJ in the second leg next weekwill see them out of the 2-14 CAF Confederation cup.
Read Other Articles In Article (Archive)