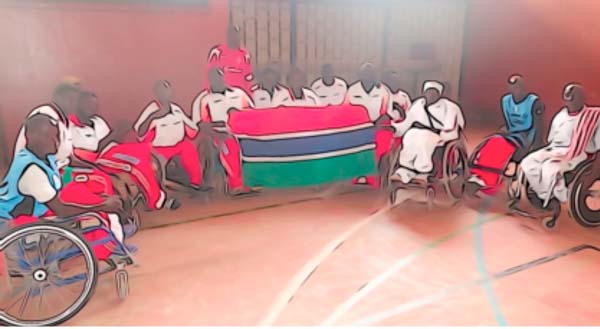 A determined Gambian wheelchair basketball team has been eliminated after two consecutive defeats to Guinea Bissau and Senegal at the Amilcar Cabral University indoor basketball court in the former Portuguese colonial city of Bissau.
The Gambia lost 12-9 to Senegal on Wednesday and the only hopes for any silver wear is the athletic team that was preparing for the race on Wednesday evening.
The Gambia is currently taking part in a maiden four-day three-nation sub-regional Paralympic sporting competition organised by a committee out to promote inter-sport competition among Paralympians within the sub-region.
Ebrima Carvalho is the head coach of the Gambian team and he was quite satisfied with the performance of the boys."They have tried their best but they have not live up to my expectations. They had many chances that could have earned us wins," he said.
Out of the basketball event, Carvalho's hope however remains in the athletic race which the Gambian team was preparing for at the time of filing this report.
Abdou Sambou, head coach of the Senegalese wheelchair basketball team, congratulated his players for the victory against their good friends and neighbors.
Admitting that the victory did not come easy for them, he called for much support to be given to their colleagues by the Gambian authority.
"The Gambia have a good team and if they are supported they can make The Gambia proud at any level," said Sambou, who was preparing his side to take on hosts Guinea Bissau in the final.
While looking forward to a much better organised event next year, he applauded the initiative taken to organize such competition for the disabled people. "This will help us to know each other and to know that we are one," he said.
Isatou Nyang and Demba Jarju, both players for The Gambia, were disappointed at the outcome, while apologizing to Gambians.
"We have learnt a lot from this competition. We will keep up the training," said Isatou Nyang.
"The coach should not also stick to one team and I believe he should have given chance to other players to prove their worth," added Demba Jarju.
Read Other Articles In Article (Archive)