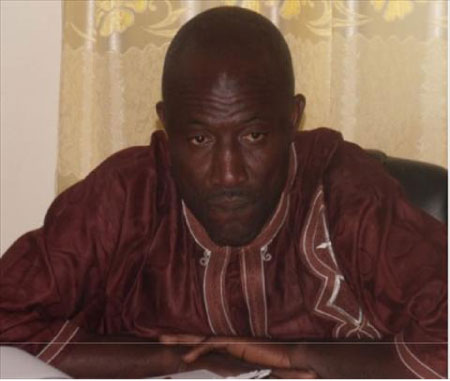 Malang Jassey, deputy permanent secretary at the Ministry of Youth and Sports, has called on players of the senior national team to change their attitude towards the nation because "The Gambia is more than one individual person".
Mr Jassey was head of delegation for the national senior Scorpions team thrashed 4-1 by Algeria in the second leg of the AFCON qualifiers, which ended their hopes of making it to the continental biggest football showpiece.
"It is up to them (the players) to really come to their senses but it is for the tacticians to decide if they want them back," he said, adding: "If they are called back they need to change their attitude towards their nation because The Gambia is more than one individual person.
"It is the efforts of all Gambians in whatever activity you are in (be it football, basketball or any other sports) to show discipline, which is key because it helps you achieve whatever you want to achieve."
"Whatever activity you are doing, especially at national level, you are doing it for your nation," he went on, saying: "Together we should all develop our nation because nobody will come from elsewhere and build our nation for us."
He also said: "If God gives you any talent you should respect it and use it for yourself and your nation.  If you know you cannot do it for your country, just say it from the beginning because resources wasted is something else, which could be used for the process of developing whatever we want to achieve."
"It was sad that we lost 4-1, he also remarked, saying the boys could have brought the game to their favour at a point in time.
The Algerian team looks sharp, he also said, adding: "Our boys could have just continued that strength even whereas they were 2-1 at half time."
"The tacticians will advise us, they are the ones who are responsible to manage football," he said, adding that they will work together.
"Back home to Gambians I will say let's take heart and forge ahead. We can put some plans that will help us get to our desired objectives, which is excellence in sport."
Asked about what he think of coach Mancini's three games in charge of the national team (drawing one game and losing twice), he said: "Mancini is in charge but what I can say is as we prepare as Gambians, other teams are also preparing.  "Yes he drew at home and lost the other two games away - is the same thing - is a process and I think we have to put up plans to ensure that we achieve our desires."
He described Sulayman Marr's performance as "outstanding" even though the game against Algeria was his debut for the senior national team, but that the same goes to the other players at one point as they were giving their hearts.
Mr Jassey also took time to congratulate the Algerian team, saying they have shown they were prepared. "I will say hard luck to The Gambia and let's plan for the future."
"Today every Gambian should be thinking of reaching higher heights," he concluded.
Read Other Articles In Article (Archive)