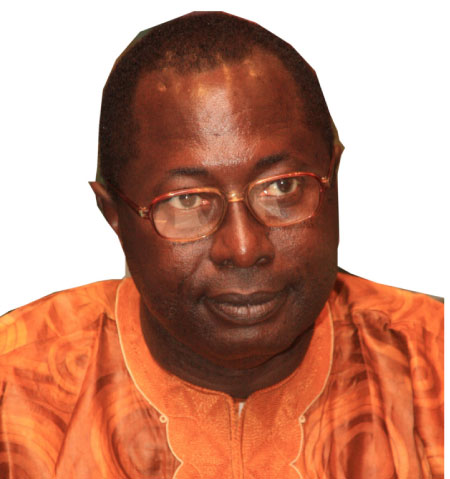 Defence counsel LS Camara Monday urged the High Court in Banjul to strike out the new charges pressed against the former Attorney General and Minister of Justice, Lamin AMS Jobarteh, describing them as incompetent and premature.
Jobarteh is already serving a two-year jail term, after being convicted twice by the Special Criminal Court Division of the High Court.
He was recently arraigned on new charges which included three counts of abuse of office and two counts of forcible entry, at the High Court before Justice M. Abdoulahi.
Counsel Camara submitted that the charges, dated 28 January 2014 and pressed against the accused person, are incompetent and premature, and urged the court to strike out the charges.
It was a trite law, he said that trial at the high court in a criminal case should be by way of information, and what they have before the court was not information.
Counsel further argued that there was no list of witnesses, as required by law, and there was no list of attachment of a document which the prosecution was seeking to rely on in this case.
The prosecution had an obligation to provide those documents, counsel continued and urged the court to order the prosecution to provide those documents.
He said according to the criminal code, count 1 and 2 could not proceed without the sanction of the Attorney General.
He added that as far as he knows, the sanction of the AG was not in the file, and it was a necessary before the case could proceed, and he urged the court to strike out the charge sheet for want of competence.
In response, the Director of the Public Prosecutions, S.H. Barkun, submitted that counsel's objection was misconceived, as they had filed a charge sheet together with the summary of evidence and list of witnesses.
He added that the issue of witnesses mentioned by the defence and the issue of sanction of the AG, and the bill of indictment was signed by DPP himself, who according to the constitution had the power to file and institute any charge against the accused.
DPP argued that the only question one could ask was whether the DPP had the consent or approval of the AG, and there was no iota of doubt regarding that.
The DPP urged the court to overrule the objection.
The case was then adjourned to 19 February 2014, for ruling and continuation of the hearing.
Read Other Articles In Article (Archive)