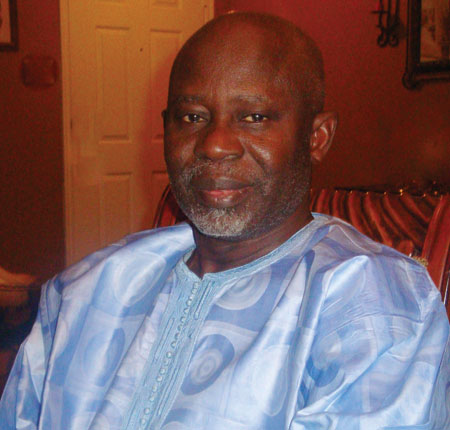 Lawyer Ousainou Darboe has expressed strong and mixed feelings over outgoing President Jammeh's conceding defeat so easily.

He spoke yesterday in an interview with The Point at his residence on Kairaba Avenue.
Darboe was granted bail along with 18 others following eight months in prison, after they were arrested for "demonstrating peacefully" and asking for electoral reform on April 14.
Darboe and Co where charged with unlawful assembly and holding procession without a permit, riot, among others.
"I have mixed feelings". Darboe said Jammeh has said he is a democrat and, "of course, you have a constitution that says that the person who is elected president is deemed to be given the responsibility.
"I expect him to abide by the constitution, because he has always been saying that 'we respect the laws of the constitution' and I don't expect it to be otherwise."
Asked how life was like in prison, Darboe said some of the "facilities are not really good" in Mile 2.
It has given him an idea of what really could be done for the prisoners in the country, he added, because "that place is really a neglected community, and it is a community that also deserves good attention, from the government."
He said it is a community that could really be a source of instability, unless it is handled properly.
Darboe said he never felt he would be released, and was disappointed by the judge.
He said had the election not been won by the coalition, he would not have been out; and that they were even fighting the case at the ECOWAS court, because that was where they thought they could have justice.
Darboe further said he is part of the new government not because he wants to get a position, but because he wants liberty for his country.
He would not reject any offer from the government, but he would also not look for any position from the government, he added.
"I wish my country will be the best, and I think with this new era will make the country one, where all rights are respected and many other good things that the country was not enjoying lately."
"With them (the new government) everything will be restored back and in the best of ways for the people of The Gambia and generations to come."
Darboe described the president-elect, Adama Barrow, as "a righteous man and trustworthy", and that because he was in his party, Darboe said he is more than excited that a person from his party is leading the coalition.
Darboe added that he is "very proud of president-elect Adama Barrow and the rest of the team."
"These are great people who have the interest of Gambians at heart, and will give the Gambian people what they want, when they take office."
Darboe commended the Gambian people "for voting for the coalition, as a result of which they are free today."
He also thanked his family for the support, especially his daughters, over the last seven months.
He commended members of the press and the electronic media, especially the social media, for their support and immense contribution toward their release.
He also gave special thanks to people in the Diaspora who fought tooth and nail for their release.
Read Other Articles In Article (Archive)