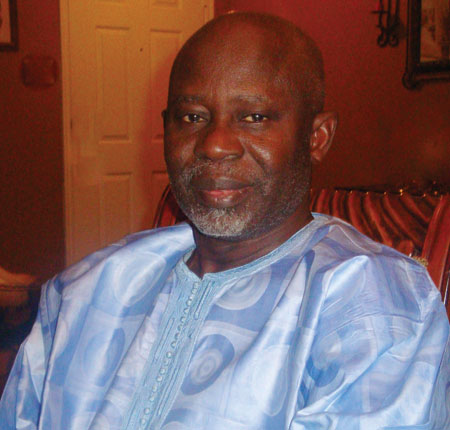 Lawyer Ousainou Darboe Secretary General and party leader of the opposition United Democratic Party (UDP) is the latest to add his voice to calls by prominent opposition bigwigs in the country for an opposition dialogue ahead of 2011 presidential, parliamentary and local government elections.
Darboe, who addressed a mass political rally organised by the United Democratic Party Kombo Central Youth Wing in Brikama on Sunday said it is only by coming together through dialogue that the opposition can make headway in the election due next year.
The political rally was the first organised by the party, since it held its congress in Jarra Soma, Lower River Region, in July of this year.
Darboe's call follows that of Omar Jallow alias OJ of the People's Progressive Party for members of the opposition camp in the country to come together for a formidable opposition force ahead of the country's next polls.
OJ at the time also told The Point, in an exclusive interview held recently, that this was the only viable and effective way in which they could succeed in their efforts during the presidential, parliamentary and local government elections.
Meanwhile, according to the UDP leader, he is ever ready to meet with any opposition leader in this country for a dialogue with a view to mapping out the way forward in salvaging the country.
"I am ready to meet with any opposition leader anywhere, anytime to discuss about the way forward in salvaging our country," he told the gathering.
The Gambia, Darboe went on, has reached a level where the opposition needs to put aside all their differences and work together in the interest of the citizens.
The recent skyrocketing of prices in the country, especially during the holy month of Ramadan, is a cause for concern, and thus called for more hands to be on deck to avert such occurrences.
Darboe who dwelt on a wide range of issues, added that unless members of the opposition come together and work in the interest of Gambians, there cannot be any political change.
"Nobody will salvage our people other than our very own selves together with their support. The Gambia has reached a point where all hands must be put on deck to effect change," he said, adding that "it is better to be late than never".
The Propaganda Secretary and the Youth President of the Youth Wing, Momodou Lamin Shyngle Nyassi and Rambo Jatta assured the gathering that come the 2011 polls the UDP will emerge victorious.
Speakers at the rally included the UDP National President Dembo Bojang, Aja Aunty Yama Secka, Amie Sabally representing the opposition NRP, and UDP Nyambai ward sponsored candidate Foday Gassama, among others.
Meanwhile, 19 people who claimed to be strong supporters of the ruling APRC led by one Mariama Badjie of Bakau Newtown announced their defection to the UDP at the rally.
Read Other Articles In Article (Archive)