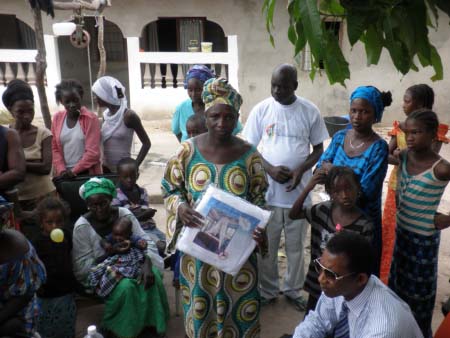 The Danish Gambia Friendship Association (Gambia Venner) is currently in The Gambia rendering assistance to various communities in the country.
A team of members of the association was accompanied to The Gambia by their Gambian counterpart who is also the chairman of the Foundation, Hamadi Vincent Bah.
Mr Bah told journalists during a press briefing in Kanifing that the team is here to render assistance to especially the needy.
He said one of their major interventions is in health, which is why they intend to join the malaria campaign in The Gambia.
Mr Bah explained that the Danish Gambia link recently visited Sintet village in Foni where they distributed over 129 mosquito nets.
Their other area of intervention, he added, is in education through which the foundation is sponsoring a number of Gambian students from nursery to university level.
The foundation, which is a non-profit-making body, raises some its funds through also buying cave materials from The Gambia, take them to Denmark, sell them and use the money to sponsor kids in The Gambia.
According to Bah, his association also organises music concerts and plough back the proceeds to the Gambian community.
He said the initiative started when an old lady who was dying in Denmark said she would not want expensive flowers in her funeral; she demanded that the money supposed to be used on buying the flowers be used to sponsor needy people in The Gambia.
"From then on until today we have been helping the Gambian community," Bah remarked, whilst applauding the media for helping them reach out to the society or the world in their drive to help the needy in The Gambia.
"The students we are sponsoring are doing well and by the grace of God we will sponsor them to university level," Bah said, adding: "The mosquito nets we will also see the impact it will have in the community; most of the beds in Serrekunda hospital are sponsored by our foundation."
Speakers on the occasion included Eming Krogs Gaard Nielsen, treasurer for the association, Jette Sqrensen, sponsor administrator, and Heidi Pacchiarini, Web administrator, who all expressed similar sentiments during the press briefing.
Read Other Articles In Article (Archive)