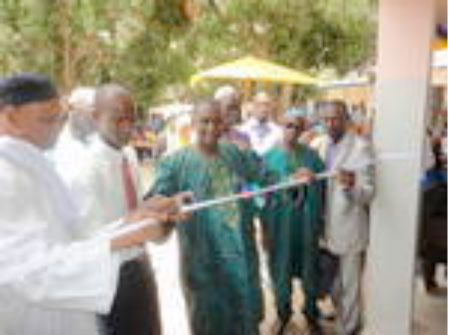 Da Vinci Technical Senior Secondary School in Nemasu has produced 156 students who completed Grade 12 in flying colours this year.
On Friday at Nemasu, where the school also inaugurated a six-classroom block under the name Yakanu Nursery and Primary School, the director of the school said the school has been giving quality and affordable education to students of the community and has always been producing students with excellent grades, such as aggregates six and seven, over the years.
School Director Lamin Kandeh also said his school hardly registered a failure over the years. 
"This is all through discipline," he noted, saying: "I will ensure the school remains to serve mankind generation yet unborn."
Mr Kandeh, who spoke on trust, said he was expected to develop the school through trust since it started in 1995 as a vocational centre on a small-scale.
While thanking a former regional school director Ousman Nyang for standing by him to ensure the school progresses, Director Kandeh said that in 2004 he constructed a building in Nemasu to transform to a senior secondary technical school.
Today, he noted, he has been able to put to communities in the country the service of two learning institutions - Yakanu Nursery and Lower Basic School and Da Vinci Senior Secondary School, both of which have been thriving on trust, quality and affordable service, with over 60 per cent qualified Gambian teachers and staff, who are highly professional in their job.
Mr Kandeh thanked President Yahya Jammeh for providing the University of The Gambia, which has gone a long way in changing the quality of education in the country.
In his remarks, the guest speaker of the occasion, Mr Baboucarr Sawaneh, head of Brand Marketing and Communications at First International Bank (FiBank), spoke on responsibility of parents, students and teachers.
He also said banks like FiBank have been contributing greatly to the development of the education sector in The Gambia.
The FiBank, for instance, has gone further to come up with banking products for students (such as The Child Trust Fund), which helps to nurture the culture of savings for the future benefits of the child, Mr Sawaneh said.
He added: "We have noticed and appreciated government's responsibility for setting high standards, and supporting teachers and principals, and turning around schools that aren't working where students aren't getting the opportunities that they deserve.
"But at the end of the day, we can have the most dedicated teachers, the most supportive parents, the best schools in the world, and none of it will make a difference -- none of it will matter -- unless all of you fulfill your responsibilities, unless you show up to those schools, unless you pay attention to those teachers, unless you listen to your parents and grandparents and other adults and put in the hard work it takes to succeed.
"And this isn't just important for your own life and your own future. What you make of your education will decide nothing less than the future of The Gambia. The future of The Gambia depends on you.
"What you're learning in school today will determine whether we as a nation can meet our greatest challenges in the future."
Mr Sawaneh commended Mr Kandeh and his team for doing their best to provide quality and affordable education to children in The Gambia.
Head of Chancery Andrew Kamara at the Sierra Leone High Commission in Banjul, who graced the occasion, said: "Learning is better than silver and gold, and as students of this reputable academic institution, let me seize this opportunity in admonishing you, especially the graduands, for you to continue to exhibit exemplary character and as ambassadors of this notable academic institution and for the other set of students, try as much as possible to be studious and don't let your extracurricular activities overshadow the good attributes imparted in you."
Mr Kamara concluded by calling on the director and the principal of the school to not relent in their bid to mould the students of the school to be better leaders tomorrow.
Other speakers on the occasion included school principal Mr Sankareh; the Permanent Secretary, Ministry of Basic and Secondary Education (MOBSE); former regional education director Ousman Nyang; former school headboy Mustapha B.F. Jatta, and Da Vinci School vice principal K.T.M. Bayo (who chaired the occasion).
Read Other Articles In Article (Archive)