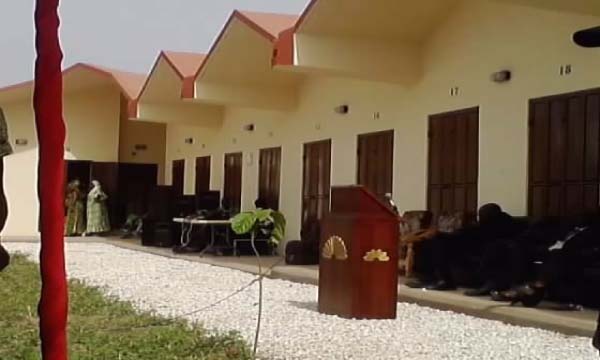 In a bid to add value to the existing Tourism products, the Gambia Tourism Board (GTB) has built a new edifice for the vendors of Fajara Craft Market to give them a facelift.
Speaking at the handing-over ceremony from the contractors last Tuesday, the Minister of Tourism and Culture, Fatou Mas Jobe-Njie, said the new craft market was funded to the tune of D5.5 million.
She commended the contractors, Construct Ltd, for the magnificent work done on the market, adding that the new market has productive and modern facility that is visitor friendly.
"The new craft market is more environmentally-friendly with 48 canteens," she said, adding that each canteen will accommodate two vendors.
She further noted that the facilities have toilets with showers as well as a mosque.
"This manifests the importance the Gambia Tourism Board attaches to the local economy," she said, adding that craft markets remain a cornerstone to her ministry for the benefit of tourists and The Gambia, whose products are sold in the market.
The tourism minister said further that the market would also provide opportunity for Gambians by showcasing their products beyond the country.
She calls on the craft market vendors to produce products of high quality, while imploring the quality of the department to ensure it and all the others are maintained for quality services.
This will complete the funded project of the new Fajara Hotel that will also generate employment for the people.
For his part, the chairman of the GTBoard, Oreme Joiner, reiterated that tourism is an important sector in the country that contributes significantly to the socio-economic development of The Gambia.
He further underscored the importance of craft markets, adding that it was necessary for the craft markets to be given recognition.
"In 2008 we witnessed the building of Bungalow Beach Craft Market and Bakau Craft Market as well as the renovation of another craft market," he said
However, he noted that this year's activities include the building of the Fajara Craft Market and the fencing of the Brikama Craft Market.
"This signifies the importance the GTB attaches to the local economy and our mandate to further develop the tourism products within our tourism industry," said the board chair.
This, he says, underpins their strong desire to revitalise the tourism sector.
Other speakers on the occasion included Fara Shams of Construct Ltd and Mariama Njie, president of the Fajara Craft Market.
The inauguration of the market is slated for February 2012.
Read Other Articles In Article (Archive)