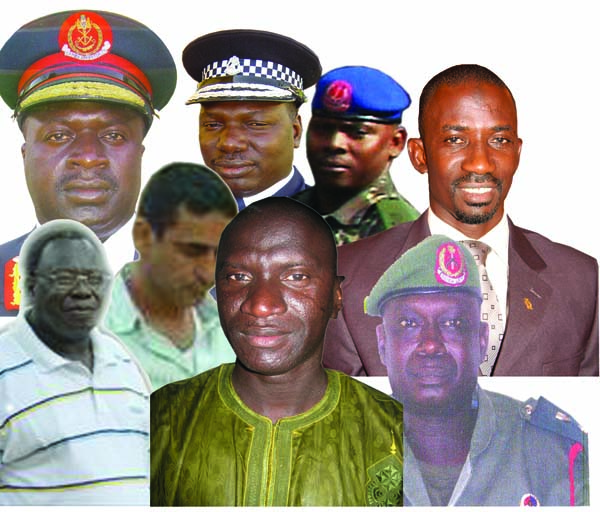 The accused persons in the treason trial involving former Chief of Defence Staff Lang Tombong Tamba and seven others, will know their fate today, with judgment scheduled to be delivered this morning at the high court in Banjul by Justice Emmanuel Amadi, commencing at 10 am.
The presiding judge, Justice Emmanuel Amadi, readers would recall, had set 15 July 2010, which is today, as the day on which he will deliver judgement in the trial, which lasted nearly five months.
In March 2010, ex-Chief of Defence Staff Lt. General Lang Tambong Tamba was arraigned along with Brigadier General Omar Bun Mbye, Colonel Lamin Bo Badjie, Lt. Colonel Kawsu Camara, ex-deputy IGP Modou Gaye, ex-diplomat Gibril Ngorr Secka, Abdoulie Joof, alias Lie Joof, a businessman, Yousef Ezzideen, alias Rambo, also a businessman.
They were charged with three counts of treason, and all of them pleaded not guilty. The indictment stated that the accused persons between January and December 2009 procured arms, ammunition, equipment and mercenaries from Guinea Conakry and other places to stage a coup and overthrow the democratically-elected government of The Gambia.   
The trial commence on 22 March 2010 and the prosecution called 16 witnesses to testify, including military officers, civilians, officials representing the local GSM companies, i.e ( Gamcel,Africell, Comium, and Qcell) and NIA officers.
At one stage in the trial, after hearing the testimonies of the first prosecution witnesses, defence counsel filed no-case-to-answer submission. However, the court held that the accused persons have a case to answer, and asked them to open their defence.
Counsel representing the accused persons were Sheriff SM Tambedou, Pap Chayassin Ousman Secka and Hawa Sisay Sabally, while the Director of Public Prosecutions, Richard Chenge, led the team of state prosecutors with his deputy, M Abdullahi.
Subsequently, the trial got to the stage where both the prosecution and defence counsel filed written briefs and arguments, which the court adopted on 5th July 2010.
The judgment is now expected to commence at 10 am this morning at the high court.
Read Other Articles In Article (Archive)