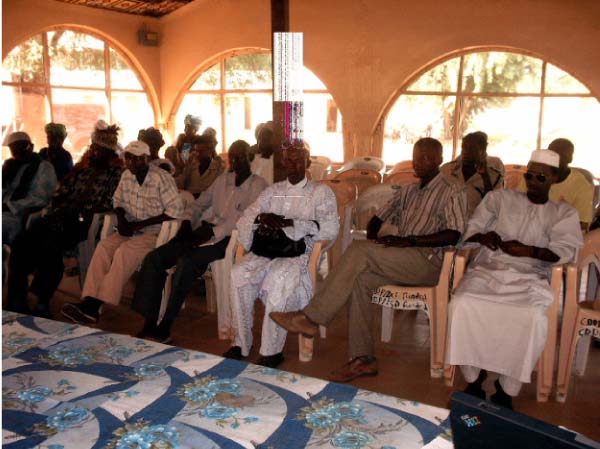 The Technical Advisory Committee (TAC) in Central River Region on 10 October 2011 organised a daylong sensitization campaign on polio for its members, ahead of the third national immunization campaign on polio.
Speaking on the occasion, Ganyi Touray, governor of Central River Region, underscored the significance of the campaign.
Polio is a disease that cannot be cured but preventable, he said, while assuring the health department that this time around the campaign will cover over 95% percent of the region.
Governor Touray also commended the Ministry of Health and Social Welfare and its supporting partners for spearheading the campaign to promote the well-being of the Gambian people.
Lamin Ceesay, programme officer for the expanded immunization programme, says polio is a disease caused by a germ which kills or cripples mainly children.
"Polio is not caused by a devil as claimed by some people," he stressed.
 According to him, polio cannot be cured but can be easily prevented through vaccination.
For his part, Yero Bah, programme officer for health education unit under the Ministry of Health and Social Welfare, said National Immunization Days (NIDs) are special days set aside to immunize all children from 0-5 years of age in The Gambia.
This year an estimated 391,425 children will be vaccinated during the NIDs within the country, he said. NIDs are meant to supplement the routine immunization programmes, and children must be vaccinated even if they have completed their routine vaccination schedule.
Mr Bah emphasised that vaccinators will move from house to house to administer the vaccines to all children of the targeted age bracket. Even if the children are away from home they should be vaccinated wherever they may be found.
According to him, when a child is missed it would be difficult for him or her to be vaccinated; therefore parents are urged to ensure all children between 0 and 5 years of age are vaccinated during the campaign.
Pa Ousman Manneh, UNICEF communication specialist, said the region is compared to Kanifing Municipality in terms polio campaign coverage.
Mr Manneh further revealed that local authorities and other stakeholders are crucial in the campaign and therefore called on parents and guardians to ensure their children are available for the immunization.
Read Other Articles In Article (Archive)