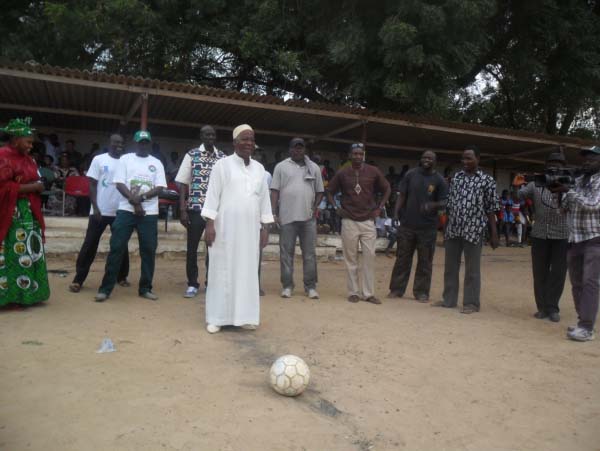 The Central River Region Governor's staged football trophy was on Saturday commenced at the Janjanbureh football pitch with Sankuley Kunda FC against Armitage Senior Secondary School FC which ended 1-1 at the 90th minute of the clash.
The tournament comprised of 14 contesting teams from both Janjanbureh and its surroundings, and is sponsored by CRR Governor Alhaji Omar Khan as part of his quest for decentralization and promotion of sports in the region particularly football. This was the first ever governor's trophy in the history of Gambian sports.
Officials said that the tournament would continue to the 10th of December from which date it is said to be suspended until the end of the upcoming National Youth Conference NAYCONF set to begin from the 12thDecember at the Soma primary school, Lower River Region.
The opening of the tournament was witnessed by the Minister of Youth and Sports, Alieu K. Jammeh, National Assembly member and among other satellite institutions under the ministry of Youth and Sports during the ongoing nationwide tour before proceeding on the tour to Basse URR.
Speaking to reporters, Youth and Sports Minister Alieu K. Jammeh outlined the event as a way of contributing to decentralization of sports and to socio-economic development. He said that it is part of their activities being the decentralization of sports throughout the nation.
He further hoped the young talented youth to emerge and rise to the divisional and national teams of the nation. He described the governor's wealth of experience in community development and local governance, adding that all the regions could take him as an example.
Minister Jammeh urged other governors to stage trophies named after themselves which would lead to a regional governors' trophy in the future.
Governor Khan said that the tournament was also meant to bring people together as one family by strengthening the existing relationship through sports.
He urged other governors to also take up the decentralization of sports in the various regions, while he assured his full support to the development of sports in his region. He urged the youth to avoid violence in sports.
Honorable member of the National Assembly and APRC youth mobilize, Babu Gaye-Sonko, urged the GFF to venturing into communal football.
Armitage SSS sports coordinator for Gambia, Senior Secondary schools sports coordinators, Victor Bindi and Kebba Yero Manneh, also advocated for the development and promotion of football for the identification and nurturing of young talent in the region.
Read Other Articles In Article (Archive)