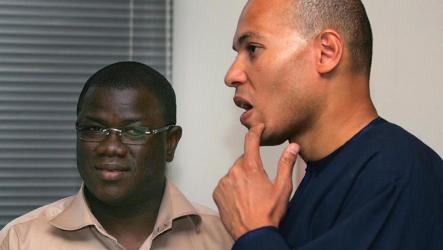 The trial on a charge of illicit enrichment of former Senegalese minister Karim Wade resumed Monday morning at the Palais de Justice in Dakar.
The headline news is that the Court for the Suppression of the Illicit Enrichment (CREI) was declared competent to judge the former minister.
CREI president Henry Gregory Diop had decided, on Tuesday August 26, to suspend the trial in order to decide on objections by the defence which questioned the jurisdiction of the CREI to try this case.
In another development, the Mayor of Ziguinchor, Abdoulaye Balde, allowed to go free after a session with the prosecutor, will return to the CREI on August 26.
Abdoulaye Baldé emerged from the premises of the CREI Monday afternoon, and made no statement. It was Me Demba CIRÉ Bathily, his lawyer, who informed waiting reporters that his client was asked to return to the CREI on August 26.
Baldé was ordered by the court to prove the lawful origins of his fortune, estimated at 5 billion CFA francs.
The former minister ofthe Senegalese armed forces under Wade had filed a 1000-page document for this exercise.
Read Other Articles In Article (Archive)