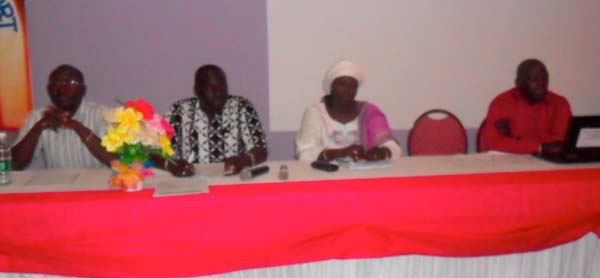 Child Protection Alliance (CPA) with funding from Save the Children International on 16 August 2017 validated the budget analysis of child protection in The Gambia report, at the Baobab Holiday Resort.

CPA hired a consultant to conduct the budget analysis of child protect in The Gambia, focusing on the national budget as well as the budgets of three Local Government Authorities: Kanifing Municipal Council, Brikama Area Council and Basse Area Council.
The budget analysis examined three thematic indicators, namely: visibility of the National Child Protection Strategy in the medium-term financial planning and funding proposals; public participation, including children, in the budgeting process and public access level to critical budget information.
In his welcoming remarks, Lamin Fatty, Program Officer at CPA, said government has undertaken a commitment to the ratification of certain international conventions and instruments on the rights of the child.
He noted that child related issues involve money and commitment but lamented there has been an absence in effective coordination mechanism at national level.
Mr Fatty added that regardless of state income, state needs to fulfill its obligation through the provision, protection, participation and promotion of the rights of the child.
State needs to mobilise sufficient domestic resources to realise children rights, according to him.
In making budgetary allocation the best interest of the child should be the government's consideration, he said.
Nfamara Dabo, vice chairperson of CPA Board of Directors, in his statement, pointed out that ratifying legal instruments and development of national legal frameworks alone does not make the country realise its commitment in fulfilling the rights and welfare of children.
They must take a step further to ensure the required resources; human, material and financial are mobilised for their effective implementation and enforcement, he said.
Mr Dabo called on government to consider the welfare and rights of children, especially in relation to survival, protection, development and participatory rights during budgetary allocations.
Fanta Bai Secka, the Director Department of Social Welfare, in her opening statement, also noted that children in The Gambia like in all other parts of the world face abuse, neglect, exploitation and violence from which they need to be protected by those under whose care they are.
She expressed the view that investing in children is the most productive pathway to long term economic prosperity of The Gambia where 49 per cent of the population is below the age of 18 years.
According to her, government is committed to the protection of her children from all forms of violence, abuse and exploitation.
Violence against children happen in private and public settings in many different forms, she noted, saying it was the responsibility of all and sundry to ensure children are protected from all forms of violence.
Read Other Articles In Article (Archive)