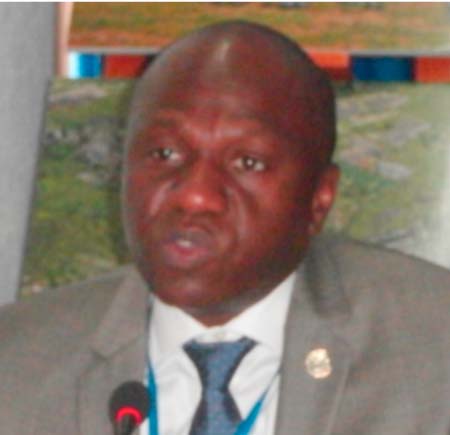 The Regional Coordinator of the Abidjan Convention has told media executives of the network of marine journalists that the cost of not taking action to protect and preserve the environment is in all account much higher than the cost of protecting it.
He noted that the overarching legal framework for the protection and management of marine and coastal areas of the Southeastern Atlantic from Mauritania to the West coast of South Africa is more of a reason that urged the Convention to organize continuous training for journalists within the region.
Abou Bamba made this disclosure recently during a three-day training workshop for network of marine environmental journalists from countries that are signatories to the Abidjan Convention on Marine and Coastal Environmental Protection hosted by the Convention Secretariat in Abidjan, Côte d'Ivoire.
This workshop was the second in a series that began in December 2013, prepared and conducted by Canadian environmental journalist and communications consultant David Israelson, with the assistance and support from the Swedish International Development Agency and UNEP`s Global Programme of Action for the Protection of the Marine Environment from Land-Based Activities.
He told the environment journalists that the Abidjan Convention is shored up by protocols committed to tackling and combating land-based and marine pollution, and protocols concerning the cooperation in the protection and development of the marine and coastal environment from Land-Based Sources and Activities (LBSA) in the Western, Central and Southern African Region.
According to him, the main objective of the interface workshop is to consolidate on the previous training held in 2013 and to familiarize journalists within the Abidjan Convention area with the issues and reporting needs on the science of the marine and coastal environment, as well as current and emerging issues.
Calling for a holistic approach, he tasked media executives to join in their sensation and awareness creation battles so that Africa will not continue to lose millions of dollars over the years due to loss of marine Eco-system.
Marine litter, Bamba said, is actually a standing block for African countries to take full advantage of their benefits of the sustainable use of marine economics, and therefore called for positive responsive actions from governments and institutions, to take ownership and responsibility for alleviating the continent's unforeseen environmental catastrophes.
Furthermore, the regional programme coordinator disclosed that there are three points of major disturbances regarding to marine litter.
First, it is harmful to marine lives as some of the spices, such as the zeal and manatees, are victims of marine litter.
Second, ingestion, when marine mammals, animals and vertebrates do not select food therefore they take or consume marine litter as they take it as part of their food chain.
According to major findings by the convention and partners, a good number of sea-turtles ingest marine debris and plastics, which accounted for led to 79% of turtles that died in the Western Mediterranean.
And third, the indiscriminate spread of marine debris is carried from one place to the other distorting "our beautiful beaches and consequently affecting tourism".
Giving evidences of death as a result of marine debris, Bamba disclosed that a review of data in 1997 revealed that 111 of 212 spices of sea birds had ingested marine debris and another study on 38 deaths of juvenile green turtles in Brazil 60% of which had ingested man-made debris, which was the direct cause of the death of 13% of them.
Sources of marine litter, according to him, includes land-based from man-made factories on the shorelines and sea-based coming for ships and vessels in waterways.
Calling on the media executives to join the convention`s awareness raising crusade, Abou Bamba appealed that as journalists and reporters of members of Abidjan Convention Network of Marine Environmental journalists, they are expected to highlight marine litter issues and update in their reportage with special focus on problems of countries within the convention areas.
Read Other Articles In Article (Archive)