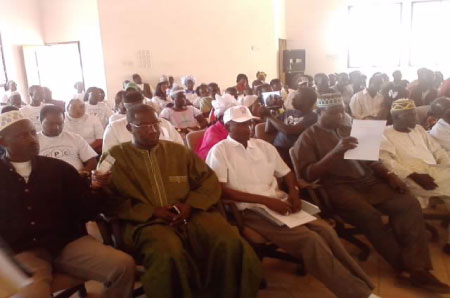 Consumer Protection Consortium, known as CPC, an umbrella body of various consumer protection associations in the country was last Saturday launched at the KMC Multipurpose Centre, in Kanifing.
The association is set up mainly to coordinate consumer organizations thus striving for the promotion and protection of the rights and welfare of the consumers.
In his launching statement, Ahagie Tamu Alieu Njie, chairman of the CPC, said the development was a significant milestone in the country's economic liberation which when developed will enhance developmental aspirations of the people.
He recalled that the government has launched series of programmes aimed at the economic development of the people.
"In 2007, the government recognised the need to pass the Gambia Competition Act," the chairman revealed.
However, he noted that the Competition Act only protects the competitors and not the affairs of consumers.
Mr Njie also indicated that they have recently initiated a draft bill to address consumer protection issues as well.
When this comes into law, there will be sufficient recognition to deal with consumer welfare and protection.
"The law cannot only solve it, it must be enforced by the people," the CPC chairman said, adding that when the CPC Act comes to play, it will create awareness, one aspect of which is the launching of the CPC.
He called on members to be vigilant, committed and be aware of the fact that "Competition does not mean not to make profit, but not to be conceiving".
Speaking on behalf of the KMC Mayor, CEO Mustapha Njie said: "It is a good thing that consumers are made to see things through the same lenses and better still for their to be an organ to coordinate the common interest of consumers in a global market plagued with so much inequity and unfair trade.
The president has made several efforts to stop the arbitrary increase of food and commodity prices in the local markets all these years, he noted, saying:  "Unfortunately, there was no umbrella body to coordinate and protect the interest of the consumer."
He finally urged them to be united in their efforts, while assuring them of the municipality's support in the interest of the masses.
Representing the Mayor of Banjul, Dawda Jones made similar remarks, saying he was delighted at being associated with the event.
In delivering the welcome remarks, Sheikh Lewis called on all and sundry to be committed in the fight for the interest of the consumers.
The event brought officials from PURA, COSPAG, FGI-CRPC, Consumer Action Group as well as people from different walks of life.
Read Other Articles In Article (Archive)