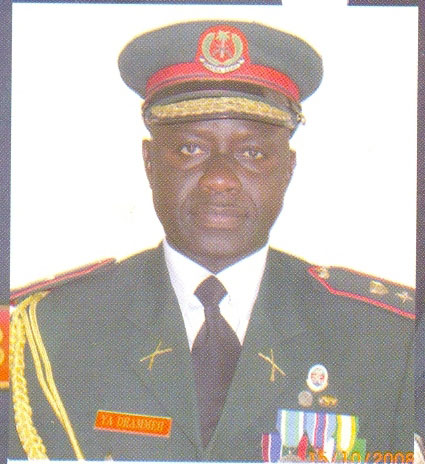 The deputy Chief of Defence Staff has said that the Gambia Armed Forces had gone through difficult times in the past 22 years, so "it would take considerable time" to refocus and redirect the thinking of the institution.

Deputy CDS Yankuba Drammeh said this is why President Adama Barrow's plans to undertake security sector reforms aimed at shaping an armed forces that would be responsive to the needs and aspirations of Gambians is very crucial.
According to a press release from the State House, Major General Drammeh made this remark on Wednesday shortly after a delegation from the UK's Royal College of Defence Studies paid a courtesy call on the Gambian leader.
The visit was part of a sub-regional study tour being conducted by the college students who are currently on a Masters level peace course on how nations achieve security, stability and prosperity. The delegation of 13 students from different countries was led by Major General Craig Lawrence. British Ambassador to The Gambia Colin Crorkin accompanied the delegation to the presidency.
Speaking to reporters after the meeting with the president, deputy CDS Drammeh said the proposed security sector reform would also make the Gambia Armed Forces accountable to civil authority and grounded in the rule of law and international standards.
"With commitment and determination within the armed forces, and political support, it is possible to achieve its desired goal as an institution and redeem its image," Major General Drammeh said.
Speaking to the delegation, President Barrow said under the former regime, some of the Gambian security forces served only the leader rather than the nation.
The President said he was optimistic about international support for security sector reforms, which would include both infrastructure and training.
He spoke of the political will and determination of his government to ensure that The Gambia maintains disciplined and professional security forces in a democratic environment.
Major General Lawrence explained that the meeting with the president provided the students with an overview of the kinds of challenges that can be encountered, and how they, as students from developed and developing countries, could learn from The Gambia's experience to make their countries more secure, stable and prosperous.
Major General Lawrence noted that the hierarchy of The Gambia's presidential system was similar to that of other African countries like Nigeria, Senegal, and Sierra Leone, where the power of the individual leader drove the country forward.
He said the students were very keen to understand the organisation of a state, the role of institutions like the justice and foreign ministries, and the armed forces in the development of the country.
Read Other Articles In Article (Archive)