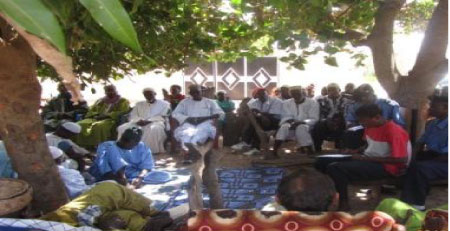 As part of the ongoing sensitization of the public by the community policing unit of the Gambia Police Force, in connection with the liaison officer of community policing at North Bank Region, an open sensitization forum was recently held at Kuntair Village, North Bank Region.
The forum was attended by over 150 community members including Alkalolou from Jokadou and Nuimi districts, and some members of the Gambia Police Force
Speaking at the opening ceremony, Chief Jim Fatima Jobe, thanked the police commissioner of North Bank Region for his dedication and commitment to the philosophy of community policing and making North Bank a crime-free region,
There cannot be any meaningful development without security, he said, promising to be behind the police and working with them hand in glove.
Speaking earlier on, Modou Sowe, commissioner of the police at the North Bank Region, recalled the history of traditional policing, which has connection to present-day community policing system.
He assured the communities of Kuntair and its surroundings that the police will empower them to be involved in policing: but with demarcation limits to their operational functions.
He added that minor offences could be dealt by the communities through mediation by council of elders but for major or capital offences, communities can arrest and hand over culprits to the police or give information to the police. These offences include murder, rape, child trafficking and arson, etc.
He warned the communities that they should not beat or tie any offender as it is against the laws of a democratic society and the convention of the universal human rights.
Superintendent Elizabeth Ketty Harding, Officer Commanding Community Policing, thanked the commissioner of North Bank Region for the wonderful structure of community policing put in place.
O/C Harding says the communities are masters and the police are their servants: therefore, communities should not be afraid of the police.
Sub-Inspector Sambujang Fatty, Station Officer of community policing, spoke of the importance of community policing and its aim of achieving maximum security and confidence to be partnering with the police and the communities.
Community policing, he said, seeks to enhance public order, crime prevention among others.
Read Other Articles In Article (Archive)