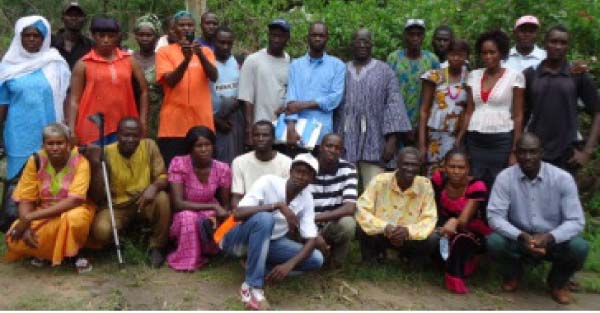 A three-day training on forest policy and step of transferring community forest rights to local communities for All Gambia Forest Platform members and community forest committees is currently underway at Sanyang Nature Camp.
The sensitization drive, which targeted more than thirty Community Forest Managers operating under the All Gambia Forestry Platform, was geared towards creating awareness on Forest Policy and Regulation Act.
The training, which assembled participants in the West Coast Region, was funded by the Forest and Farm Facility under the National coordinator, Kanimang Camara.
Giving an overview of the agenda of the training, Kanimang Camara, National Coordinator of Forest and Farm Facility who also doubles as the Director of NACO, said during the three-day training, participants wouldbe exposed to various topics, such as an overview of the forest policy,goals, objectives, principles of the forestry, participatory forest management concepts and approaches, community control state forest and joint forest park management, introduction to market analysis and development, introduction to natural resource conflict management, monitoring and learning, and community participation in policy implementation.
Mr Camara highlighted the need for framework and the policy provision, which include institutional development policy, programme development, policy on decentralization and synergy and policy on research and development.
Abubacarr Krubally, president of All Gambia Forestry Platform, explained briefly about the relationship between All Gambia Forestry Platform and Forest Farm Facility. Mr Krubally lamented the importance attached to the training, which he said could not be overemphasised in the sense that it would improve awareness, as well as help the community to know their rights and responsibility as per the policy pronouncement. He said the training would also enhance the implementation of the forest policy at community level and urged the participants to transfer the knowledge gained to their members.
He appealed to Forest and Farm Facility under the National Coordinator to help the community to organise training on forest policy and related issues at district level to enhance the knowledge of community foresters.
Saikou Janko, president of Kombo Foni Forestry Association KOMFFORA, who doubles as the Vice President of All Gambia Forest Platform, described the training as very important, which would help to share ideas and experiences in detail about the Gambia forest policy.
He said the training would further enhance the management of foresters at the community level, adding that acquiring better knowledge on forest management would greatly make an impact towards the development of forest cover.
Mr Janko also advised participants to filter through to others information gained from the training in the interest of all.
Read Other Articles In Article (Archive)