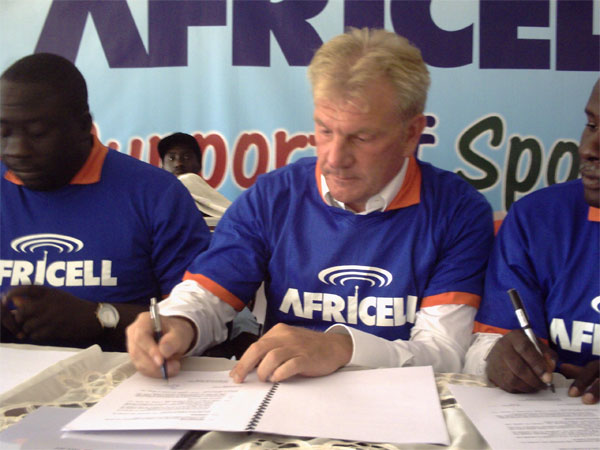 Gambia's Coach Put has spoken brightly on the Gambia's most crucial game against Senegal in the 2010 world and African Cup qualifiers.
The Scorpions coach will also be leaving Banjul on Sunday for Belgium to work on issues concerning Gambia's game to ensure the team's victory.
He said, during the trip he will work on a sponsorship package on producing replica shirts for fans during Gambia/Senegal game. "I am waiting on confirmation from the FA to go ahead with the idea," he said.
Commenting on The Gambia's game against Senegal, scheduled for the second week of October, Coach Put said, " first of all I am not happy with the changes from CAF. As before, with our current position in group six a draw could have help us qualify and now we must win to make it,"
"I will call one or two more players for the game either in Belgium and possibly go to Sweden and England to look at their performance for their teams. I cannot afford to take players without knowing them," he said.
While in Belgium, Coach Put will also follow the performance of newly signed Gambian striker Momodou Ceesay at his club KVC Westerlo and also work on a possible friendly game in November.
He will also be in Belgium to analyze The Gambia's game on the best way to win our forthcoming match with an analyzing device and will show it to the players before the game.
"I am getting The Gambia prepared for Senegal's encounter, I will ensure that the team is well accommodated for the game. So that there will be no surprises
He pointed out that, "I have been told by CDS Tamba that there is full support from the President of the Republic and I believe we need also need that."
Coach Put also added that, "I have given my report to the GFA on what to do for the game. First of all the ground should be well prepared for our training sessions. In that I mean the grass at the stadium should be trimmed lower and must be made usable for the players only during the period of their camp. Because if you compare the condition of our field with that of Senegal, it is far different. On the Senegalese pitch you can move with the fastest pace. So the boys should be well prepared for that and train in best conditions."
With all these preparations, the Belgian coach is conscious of the fact that Senegal is a side with good players playing in very high leagues in Europe. But he is always confident that The Gambia has a good team as well.
He said, " Senegal are very dangerous from dead ball situations and they have an advantage on us in terms of height, but we have to work on a mechanism of neutralising that advantage. However, I have prepared the players psychologically for the game. It is going to be hectic but they know that they can write history by wining the game
The Scorpions are expected to be in camp on Sunday October 5th and will travel to Senegal two days before the cracker.
Read Other Articles In Article (Archive)