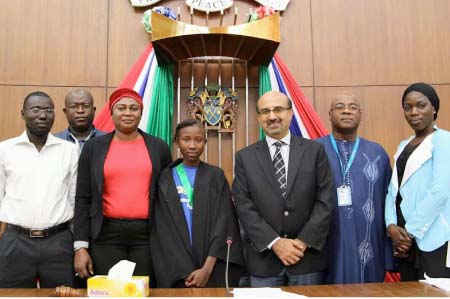 Children National Assembly of The Gambia has called for action to put into reality on the initiative dubbed "The Gambia we want" asking the central government and the minister of women, children and social welfare to look into actions that can provide adequate protection and development of children in The Gambia.

Deputy speaker Jainaba Sanneh, who spoke on behalf of the elected members said children from different regions in the country are encouraging the government to fulfill its commitments and take action for child rights now.
She said despite all the progress made, there are still challenges the country is grappling with, which call for collective action by the government and other relevant stakeholders.
"The culture of silence surrounding child sexual abuse and exploitation must be broken through national and community dialogue using all available channels to promote the right of children with disabilities, fight discrimination and stigmatisation to ensure they have access to all forms of services and nation building."
Ms Sanneh tasked the government to put in place effective mechanisms to reduce road accidents and children casualties, and to provide a budget line in the national budget for effectiveness of the children's national assembly.
She said the enactment of the Children's Act 2005, women's Act 2010, Tourism Offences ACT 2003 and other relevant laws to secure children's rights, protects them from any forms of abuse, exploitation and violence and build an environment that is enabling, loving and protective.
"Existing regional and international legal instruments, in particular the united nations convention on the rights of the child and the African Charter on the rights and welfare of the child which provide for the respect, protection and fulfillment of the rights of all children without discrimination or distinction she said.''
Read Other Articles In Article (Archive)