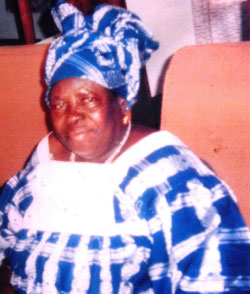 WHO WAS FR. EDU'S MOTHER?
The late MRS. EFFICENY NENE BARIL GOMEZ was the last elderly woman of the tribal bakaneh group of the Manjago tribe in The Gambia. She was born around the year 1924 of Anthoney Ndanyakan and Mbonkie, her mother.
Ya Neneh, as she was called, was married sacramentally to late Joseph Furumos Baril Gomez. Their marriage was blessed with Marie Therese (Ida) Gomez Faal, Lumbatu Margaret (Bintou) Gomez Jobe and their "Chaat" Rev. Father Edu Gomez.
Ya Nene Gomez was a very hard-working and industrious woman. In her life, she worked hard to educate and bring up her children while her husband, Pa Baril who a boat captain, used to spend most times at sea in the provinces of The Gambia. She used to believe that the education of her children was her investment in life.
Ya Nene was a woman who also lived to promote Manjago culture. She used to be a good organizer, singer and dispenser of many Manjago cultural rites from traditional birth deliveries, naming ceremonies, marriages and funerals. She lived to cherish humanity and accommodated many young people who were not her own in Banjul.
Ya Nene lived to serve her God in prayers and practice in the Catholic Church. Her best devotion was the rosary, which was daily prayer. May Mary the mother of Jesus, pray for her to have a place in paradise.
Ya Nene is survived by her three children, many adults whom he adopted like Patrick Mendy, Amie mu ndow, Fatou Serrekunda, Abia, Mariama, Marie Louise and her grand children Sainey, Jack, Astou, Abibatou, Ndebou, Elsa, Dad and her great grand children, Abioseh, Ida Marie and Ali Bala of U.K.
May she rest in peace.  AMEN.
TRIBUTE TO THE LATE MRS. EFFICENY NENE BARIL GOMEZ
By George F. Gomez
Mrs. Efficeny Nene Baril Gomez was an Extrovert, a good mixer and one of those rare breeds who was the first to be mentioned and identified within a group because of her personality and outward looking image.  She was a women of strong faith, very focused, determined and believed in hard work as the only means to progression and guided by this conviction, she almost personally ensured her children Marie Therese, Margaret and Edward had the best education available. Margaret is now the Chief Nursing Officer of The Gambia and Edward fondly called Father Edu is among the senior Gambian Priests. She brought up other children, among whom Mr. Patrick Mendy, the Banker.
Yai Nene to most people was a strong advocate of Manjago culture which she believed is the best on earth.  She once told me, "if we believe in the Resurrection of the dead, we must believe that those people can hear us and we can speak to them, we must also remember them not only in our prayers but when we have food on the table and this is why Manjagoes always pour drinks on the ground before they drink." She continued, "God gave Abraham a sheep to offer to him as sacrifice, we Manjagoes want to preserve that but we use goats because their meat is softer and tender".
When I heard the news of her death, I sent Fr. Edu a text and it read, "I received the sad news of Yai Nene's death with shock. She was a great woman, a wonderful leader who embraced us as a family, giving us advise whenever we meet her. She wanted all of us, Manjagoes, to be proud of ourselves and work hard to make a difference in our society. She told us stories about our ancestors to make us feel proud of ourselves and our culture." That was Ya Nene.
Ya Nene to me was like a sister because my father, Pa Furmos Karofan and Furmos Nalongira, the father of James Furmos Gomez, ex. Mayor, were her adopted parents. Her husband Baril, Pa Njomy Mendy, Pa Johnson Gomez, Pa Bernard Gomez and many others were nurtured by my dad and James' dad. Ya Nene was extremely nice and can get one correct bad way by just talking and advise. She was so  helpful and can spend days in one's house working and helping when there is a marriage, funeral or naming ceremony and she was always in charge of the singing and the Manjago dancing. She was the best and well renowned singer and dancer of Manjago music. People attended Manjago functions to hear her sing and dance..... Yes, she was gifted.
"Your fathers walked to Gambia to make a difference in their lives, now it is your turn to make this a reality but never forget your culture."  She always told me.
Ya Nene, you believed in the Resurrection of the dead, we will continue to talk to you and pray for you. May the Angels lead you to Abraham's side...Amen; and may He welcome you with a fat Goat...Amen. May Christ the Good Shepherd reserve one of the best rooms in his mansion for you.....AMEN.
GRATITUDE
The family of Father Edu Gomez of Old Jeshwang, express their sincere thanks to all people, Muslims and Christians, who sympathised with them at the death of their dear Mother, Mrs.      Efficeny Nene Baril Gomez
May she rest in peace.  AMEN.
Read Other Articles In Article (Archive)