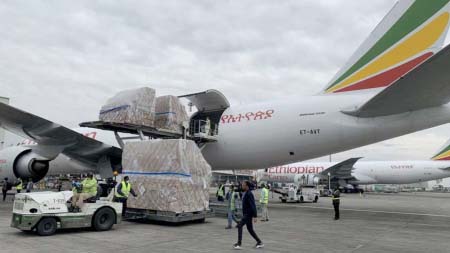 Chinese billion Jack Ma has come to the aid of The Gambia by donating 20, 000 test kids, 100, 000 face masks and protective gears to effectively fight against the novel coronavirus which is termed a pandemic by WHO.

The medical consignment donated by Jack Ma and Alibaba Foundation in China was flown into the country by Ethiopian flight on Saturday and donated at a presentation held at the Banjul International airport.
The materials which is led by the African Union through the Africa Centre for Disease Control is part of the continent-wide donation in support of actions towards the implementation of the Africa Joint Continental Strategy for covid-19.
As part of support in fight against coronavirus in the African continent, Jack Ma also presented similar gestures to 54 African countries.
Speaking during the presentation at the airport, the Chinese ambassador to The Gambia, Ma Jianchun, said as part of China-Africa brotherly friendship, China has decided to provide emergency medical assistance to support Africa considering the challenges confronting the continent amid spread of coronavirus.
"Gambia has been a true friend to China especially during the coronavirus outbreak. At the moment, the coronavirus has already hit The Gambia and I would express our sympathy and support and solidarity with the Gambia government and Gambian people. We hope we can have the Gambian people support to continue to fight against the outbreak" he said.
Dr. Ahmadou Lamin Samateh, Gambia's minister of Health, hailed the two foundations for the support to The Gambia, while describing it as timely.
He added that the donation emphasises the partnership between The Gambia government and donor partners especially China.
"With the donations of the equipment, these protective gears, the test kits, etc., we are going to deal with the cases we are currently having in a better way. We pray against it, but if we do have more cases, we will be in a better position to deal with them," he said.
The WHO country rep. Dr. Desta Tiruneh said the donation to The Gambia is part of the response to covid-19 pandemic which was shared among all the 54 states in Africa.
"The materials received will go a long way in the fight against covid-19 locally against the pandemic," she said, while saying that the donation is an excellent demonstration of Chinese solidarity.
WFP Country Representative Wanja Kaaria said the cooperation in fighting to end the virus is key, while challenging Gambians and those living in the country to take precautions to contain the spread of the virus.
She hailed The Gambia government for protecting its citizens and also making much sensitisations in the fight against covid-19.
The director of Health Promotion and Education, Modou Njie, assured that the equipment will be put into good use.
Read Other Articles In Article (Archive)