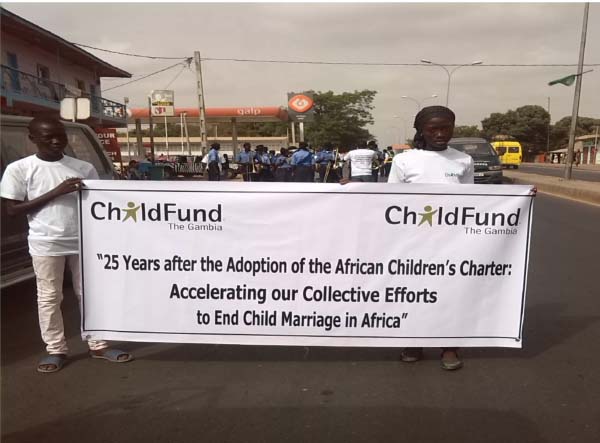 ChildFund the Gambia and its local partner federations recently commemorated the Day of the African Child (DAC) at Lamin football field in Kombo North West Coast Region.
The commemoration, with the theme '25 years after the adoption of the African children's charter: Accelerating our collective efforts to end child marriage in Africa', was characterised by a march-past led by the police band.
Speaking at the event, Kombo North Federation's manager Alieu Mendy said the day honours those who participated in the Soweto Uprising in 1976 in South Africa, where hundreds of young boys and girls were shot dead. In the two weeks of protest that followed, more than a hundred people were also killed and thousands were injured, he added.
According to him, the day has since served to highlight issues affecting the lives of children and young people around the world.
Commenting on child marriage, Mr Mendy said it is a human rights violation which exposes millions of girls to the risk of physical and or psychological trauma.
He said the African Union and its partners have identified child marriage as an issue of concern across Africa.
For his part, ChildFund's national director James Pimundu said the day presents an opportunity for all stakeholders on children's rights, including government and non-governmental and international entities, to reflect on issues affecting children.
The theme, he noted, highlights the need to take stock of the progress in ending child marriage and to intensify collective efforts at improving on bottlenecks such as limited data on child marriage and cultural norms that promote the practices.
Globally, he noted, in 2010 over 64 million women ages 20-24 were married or in union before the age of 18.
In The Gambia, Pimundo intimated, in the same year about one in five young women ages 15-19 were married while 46.5 per cent and 8.6 per cent were married before their 18th and 15th birthday.
The director of Social Welfare, Fanta Bai Secka, in her remarks on the occasion, acknowledged the efforts of the Government of The Gambia towards child rights, saying it has ratified international instruments including Convention of the Elimination of all forms of Discrimination against Women, the Convention of the Rights of the Child, and African Charter on Rights and Welfare of the Child.
Child marriage is a harmful traditional practice, she also noted, saying that in child marriage, children are seen violated with the consent of the society to such an extent that it may be even celebrated.
She highlighted some of the challenges faced in child marriage as health implications and effects of teenage pregnancy.
Speakers on the occasion included the Alkalo of Lamin Village, Alagie Mbemba Bojang, and Mariama Touray, a sponsored child of Kombo North Federation.
The event was attended by government and NGO officials, as well as the Paramount chief of The Gambia, Alh Demba Sanyang, and a cross section of the community.
Read Other Articles In Article (Archive)