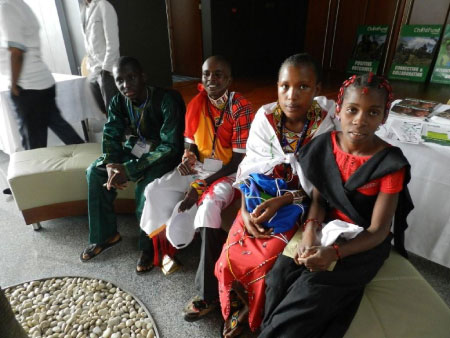 Two sponsored children of Childfund Tuesday returned from Addis Ababa, Ethiopia, after attending Childfund Interactive forum for children from different Childfund National offices.
The children Ramatoulie Bah from Eastern Foni Federation and Abdoulie Jammeh from Ding Ding Bantaba Federation all in the West Coast Region on Tuesday faced members of the press together with their sponsors.
Chidlfund The Gambia officials on Tuesday briefed journalists about the participation of these Gambian children, which they supported.
Mustapha Kebbeh Programmes Manager Childfund The Gambia, on behalf of the national director, welcomed the children who represented Childfund The Gambia to attend the Day of the African Child in remembrance of the massacre of innocent children of Soweto by the then apartheid regime of South Africa.
He said his NGO supported the education, health, protection, nutrition, virtually the entire development of their sponsored children.
"This is why when this opportunity came, we thaught it wise to carefully select these children who would not only  be ambassadors of the Childfund International The Gambia but also representatives of our dear mother land The Gambia," he said.
He thanked the parents of the two students for allowing their children to attend this important forum outside The Gambia.
Nfamara Darboe, Childfund Sponsors Relation Manager, also thanked the children for leaving behind everything during their selection to participate in this important day in Addis Ababa.
He told journalists that Childfund International The Gambia are doing a sponsorship programme where we enrolled about 20,000 children out of that we are sponsoring over 14,000 children.
 "Sponsoring means we have linked them to sponsors and supporting them in terms of their education, health and other things that they may need that would help them to move through the various life stages from childhood to adulthood," he said.
Ousainou Sarr, Childfund International The Gambia Technical Specialist Youth, who travelled with the two children to Addis Ababa, said that during the forum he picked up or learnt three important things; which are awareness, participation and how to intensify for children with disabilities.
He said people need to create awareness, particularly with children with disability, adding that opportunity should be given to children to participate in society, noting that they should be accepted into the society in which they live.
Both Abdoulie Jammeh and Ramatoulie Bah shared their experiences with the pressmen saying their trip was a greet experience for them.
The duo also thanked Childfund International The Gambia for selecting them among 14,000 of their sponsored-children to take part in this important regional forum.
They urge other NGOs in the country to emulate Childfund for their concern to the welfare of the Gambian children by exposing them to wider opportunities.
Read Other Articles In Article (Archive)