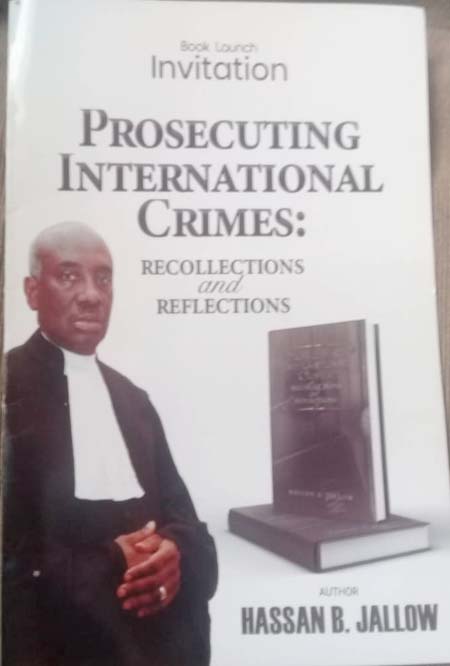 Gambia's chief justice Hassan Bubacarr Jallow, Saturday launched a book title: Prosecuting International Crimes: Recollections and Reflections.

The book is a product of the challenges of his journey in delivering justice for everyone. He said he dedicates the work to the former UN secretary general Kofi Anan for his selfless service to humanity.
The book is Mr Jallow's personal account and recollection of his experience as the chief prosecutor of the UN criminal tribunal for Rwanda in the aftermath of what has been described as the darkest episode of Africa's recent history; to Rwanda in 1994, where thousands were killed.
He said Gambia has tremendous experience in working on international justice issues that they shall make the right choices that will promote and maintain peace, justice and accountability in the country.
Among the reviewers of the book, Professor Henry Alisigwe, the dean at the Faculty of Law at the University of The Gambia said the book would serve as a great source of guidance to international criminal justice administrators.
"The book is a piece of treasure for the acts of justice and international criminal justice administration and promotion of international justice and holding perpetrators to account. The real punishers to avoid such humanitarian catastrophe remain recognition that we owe ourselves and individual responsibility to advance the cause of humanity," he said.
Muhammed Jah, chairman of QGroup and chief launcher of the book said international human rights and humanitarian law is very limited and the law is not only for lawyers but an instrument to regulate society and create advancement.
He said Justice Jallow is a towering intellectual figure within and outside his profession. "He possesses values and virtues of honesty, integrity and humility and has always conducted himself with dignity and decorum in all his undertakings and in his relations with his peers and his subordinates."
Other reviewers of the book were; the chief legal counsel of African Development Bank, Ousman Jammeh, Dr Alhaji Marong, the chief of legal affairs at the UN Assistance Mission in Afghanistan and Dr George Mugwanya who works at the International Criminal Court.
Read Other Articles In Article (Archive)