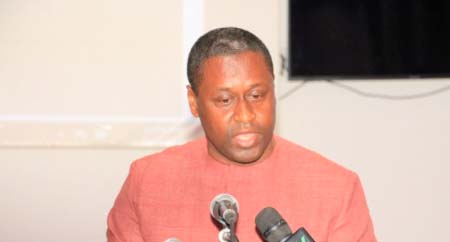 QGroup chairman Muhammed Jah advised that Gambian leaders of corporations; intellectuals and activists of every description, including politicians and the general citizenry should not be bystanders in the country's democratic journey.

Addressing participants at Chief Justice Hassan B. Jallow's book launch at Qcity in Bijilo on Saturday, Mr Jah said today's generation of Gambians must be willing to assume the mantle of leadership in this period of social-change and national renewal. "This will help to realign the national trajectory towards the realization of the unfulfilled socio-economic aspirations of the people especially the poor and to provide enlightened leadership towards the creation of a modern nation state," he said.
He said many have lamented the lack of social capital such as well-educated and highly skilled and innovative citizens, who refused to assume political leadership roles at home, instead are content with the administrative functions in big organisations abroad.
He said the factors associated with leadership failure in Africa, are less complex than they are sometimes made to appear. "They continue to blame the adverse impact of the colonial legacy; including the fragmentation of our traditional governance systems, the lack of historical knowledge and the loss of identity on the part of citizens."
But Mr Jah said people must bring to bear their intellectual capabilities, learnt experiences and knowledge of enlightened ideas of politics, the economy and society to the national development imperative of the country."
He said time has now come for competent and able Gambians to take up the challenge of the generation to bring the benefits of the diverse range of talents and skills of the citizens, to the stewardship of the nation; to join the frontline of a new and enlightened leadership with knowledge of the history and a clear vision for the collective future.
"It is very easy to criticize, but unless we assume our historic responsibilities and become active agents of change, our democratic rights as citizens to hold our leaders and our governments accountable for their policies, decisions and actions would have been misplaced."
Mr Jah said today, Gambia needs all her citizens, with the capacity and the know-how to engage in the political and economic process and become change makers, whether one lives in the diaspora or resident at home.
"We must follow the example of Chief Justice Jallow and emulate his demonstrable leadership qualities. We must benchmark the Rwanda that he helped to reconcile, by building on his living-legacy, to bring development to our own people and our country. We must learn from his achievements and his successes."
Read Other Articles In Article (Archive)