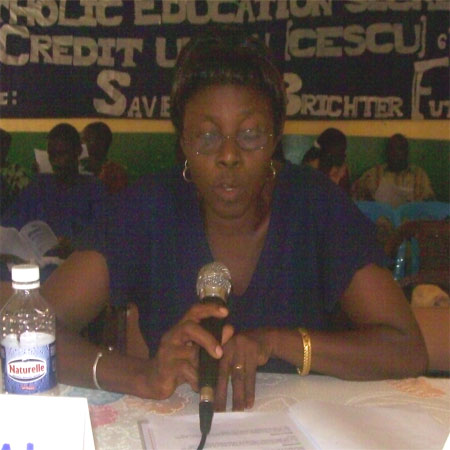 The Catholic Education Secretariat Co-operative Credit Union (CESCU) recently held its annual general meeting with almost 300 members attending the Fr Farell Memorial Hall in Kanifing.
CESCU, which has grown in membership from 570 to 700, is now worth D5.4 million compared to D5 million last year.
According to Anna Sally Badjie, the treasurer, during the 12 months since the last meeting people have retained a lot of hope and trust in CESCU. Reporting on their assets she said, "our total assets are calculated to be D5,012,317." This, she said, was due to the efforts of the board of directors and individual members from schools across the country.
She said the loans committee continues to issue loans to qualified members of CESCU on a weekly basis. "The five-man committee appraises loan applications and have issued total loans amounting to D1,453,934 and the balance outstanding is D2,453,934. This has yielded interest of D308,010 within 12 months," she told the meeting.
Anna Sally Badjie further said they invest not only in loans but with commercial banks and the central financial facility with NACCUG amounting to D215,878 and shareholding investment of D10,964. The reserve fund stands at D351,729 as of the 31st of December 2007 and has yielded interest of D32,956.
Mrs. Badjie further said that their gross interest stands at D532,088 compared to D501,964 in the previous year. Expenditure stands at D202,969 compared with D330,913 the previous year. This, she explained, was because "we cut down on travel expenses and other things."
The treasurer revealed that the board decided to pay 3% and 5% for 2006 and 2007 as individual savings after the deduction of administration costs of D202,969. "CESCU's work has been successful with many achievements recorded," she said in conclusion.
According to Yayah Colley, analyzing CESCU's performance said not much was achieved. He said the police and GTU are ahead. "CESCU should do more," he stated. Many distinguished persons were present and new members were elected to office.
Read Other Articles In Article (Archive)